Did O'Keeffe come to Brooklyn often?
She lived in New York with her husband, the photographer and gallery owner Alfred Stieglitz, from 1918 to 1946. She produced only a small number of paintings of New York architecture, including several skyscrapers and this iconic bridge! Sometimes she and Stieglitz would drive to Brooklyn, and she liked viewing the bridge from the car. It was an emblem of modernity to her and to everyone who saw it at the time.
Georgia O'Keeffe's first solo museum exhibition was held at the Brooklyn Museum in 1927. Previously some of her work was exhibited in another landmark exhibition at the Brooklyn Museum entitled the International Exhibition of Modern Art in 1926. In the 1930s and 1940s O'Keeffe spent summers in New Mexico, and every time she came back to New York she would bring bones and skulls (found in the desert) with her to inspire her art.
If you head down the hallway, you can see an O'Keeffe painting of a ram's head and a desert landscape. Stieglitz died in 1946, and O'Keeffe relocated permanently to New Mexico in 1949.
Is it unusual for O'Keeffe to do a city subject?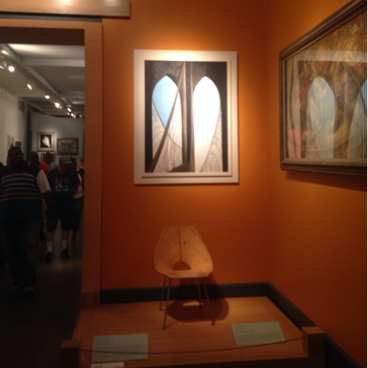 Georgia O'Keeffe is definitely known more for her flowers and her Southwestern landscapes. She lived in New York for about 20 years with her partner and husband, the photographer and gallery-owner Alfred Stieglitz. The city was a very popular subject with artists living in NYC in the 1920s-30s, so she did paint a short series of skyscraper and bridge scenes, including views from her apartment. However, it was a much briefer interest for her than still lifes or New Mexico scenes!
I really like this piece. Are there other O'Keeffe's that are similar in the museum?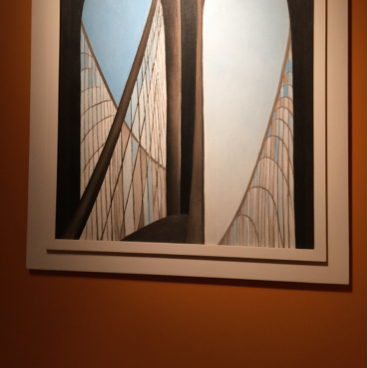 Yes, we do have two other O'Keeffe paintings currently on view.
One is a desert landscape with other objects and one shows a composition of several trees. They are both located in the same installation you're in right now, American Identities, but in other rooms.
And if you would like to see cityscapes by other artists working in the 1920s-1940s, go through the door next to this painting you'll find some in the next gallery.
Did Georgia O'Keeffe do any other architectural works besides the Brooklyn Bridge painting here?
Hi and thanks for using the ASK app today! Throughout her career, Georgia O'Keeffe did paint several scenes of urban New York City when she lived there from 1918 through 1946. She painted several iconic Manhattan skyscrapers in addition to the Brooklyn Bridge.        
Do you know what the size of this painting is? Also, what room this is located in?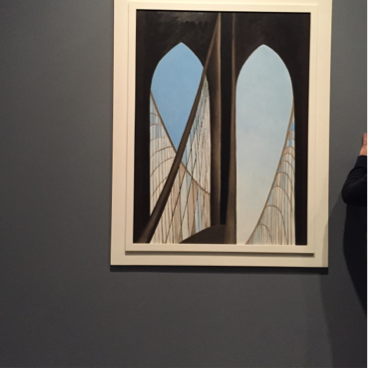 Sure, the painting itself is 47 15/16 x 35 7/8in. and with the frame it is 56 15/16 x 44 7/8 x 2 in.
You are currently in the American Art galleries and that section of the American Art galleries is titled "The City and the Rise of the Modern Woman."
Okay, thank you that's very helpful. Could tell me anything about the style of this painting/structure?
No problem. Georgia O'Keeffe is most famous for her works depicting New Mexico and objects from the desert (you will often see dried-out bones and skulls in arid landscapes) as well as floral imagery. However, she did travel to and from New York and the painting you are looking at she painted during her final year in New York before moving permanently to New Mexico.
O'Keeffe is considered an American Modernist and this group of artists emphasized the the artist's inner vision and the urban experience. Here, O'Keeffe focused on a close-up of the Brooklyn Bridge, a symbol of modern, urban life.
What do you see or think of when you look at the painting?
It looks like I'm standing under pillars from a cathedral looking out from under the bridge, the sky is calm and blue with other calm earthy tones.
Nice observations! It's great you brought up that it looks like a cathedral because those pointed-arches of the bridge are known as Gothic-style arches and can be found in old churches. It also makes an allusion to the idea that this large bridge--a symbol of modern, urban life--is a sort of "new American cathedral."
That is very helpful, I think I can take it from here thank you so much!
You're welcome! Best of luck with your assignment.
Did Georgia O'Keeffe start painting her iconic skulls and flowers and nature paintings after leaving New York? Or did she start painting these images while still in the city?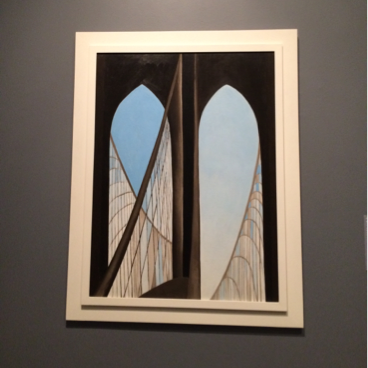 She did start painting painting those iconic skulls and flowers while still living in New York. She began traveling to New Mexico and bringing back objects that she would then paint in her New York City studio. Ultimately, O'Keeffe was so drawn to her subjects that she permanently relocated there. Georgia O'Keeffe moved to New Mexico in 1949 following the death of her husband, the photographer Alfred Stieglitz, in 1946. You can see an early skull and flower painting, "Ram's Head, White Hollyhock-Hills (Ram's Head and White Hollyhock, New Mexico)," from 1935 in a nearby gallery!
I saw the other paintings! is she originally from New Mexico?
Great! Georgia O'Keeffe actually grew up in Wisconsin. It's no New Mexico, but certainly far from big-city life.
Throughout her life, O'Keeffe lived all over the US. She studied in Chicago and New York; taught in Virginia, South Carolina, and Texas. She lived in New York with Stieglitz and ultimately owned two homes outside Santa Fe in New Mexico.
Can you tell me about Georgia O'Keeffe's Brooklyn Bridge painting?
Georgia O'Keeffe was one of the central members of a group of artists associated with Alfred Stieglitz and his galleries in New York. Under Stieglitz's leadership these artists strove to convey a uniquely American identity in their art, through its emphasis on native subject matter, the modern urban experience, and spirituality as expressed through color and form.
The Brooklyn Bridge had been a popular subject for artists and writers ever since its completion in 1883.
Yea! I enjoyed the simplistic hues and shapes. And I didn't know it was O'Keeffe's work. Had no idea she also painted cityscape.
While she's most well known for her paintings of the southwest and flowers, she lived in New York for around 20 years. Are you familiar with the photography of Alfred Stieglitz? 
The NYC art scene was big in the 1940s, right? Mondrian, etc. Any idea why Georgia O'Keeffe relocated to new Mexico in 1949?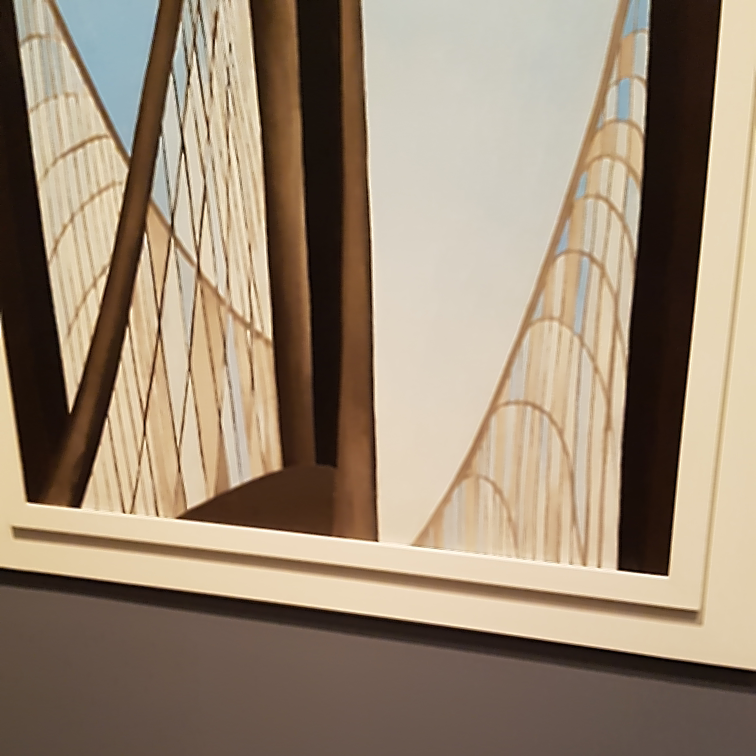 O'Keeffe had been been visiting New Mexico almost every summer since the 1920s, and she decided to move there after the death of her husband (photographer and gallery-owner Alfred Stieglitz) in 1946. She never thought of herself as a city-person to begin with, and truth to tell, she really never enjoyed living in New York very much!
She was drawn to the open spaces and bold light and dramatic coloring of the Southwestern landscape -- and she eventually owned two homes there, where she lived and worked until the end of her life. Did you see her painting of the "Ram's Head and White Hollyhock" in our galleries today?
With the crazy frame. Yep. She was New Mexico-based I guess when that was done
Yes! She designed that frame herself. She would gather bones on her daily walks in the desert and paint them, sometimes in combination with other objects.
She said that she thought of the bones as still being very much alive!
What was Georgia O'Keeffe's relationship to NYC and this type of painting?
Georgia O'Keeffe lived in New York from 1918 until 1946. During the time, New York was a popular subject for artists and O'Keeffe painted a few cityscapes, including "Brooklyn Bridge."
O'Keeffe was never a big fan of urban environments, and began visiting the Southwest even while living in New York, but she stayed here because her husband and partner, Alfred Stieglitz, was based in New York.
Throughout her career O'Keeffe explored various aspects of American identity and her style changed based on the environment. I find her "Brooklyn Bridge" very different from the "Ram's Head" painting by her that is also on view. What do you think?
Yeah I'm interested in the contrast of this painting to her other work I'm more familiar with.
Can you tell me more about this painting? The view is so different.
One thing that the Brooklyn Bridge painting shows about O'Keeffe that is not always apparent in her work is an interest in photography, evident in how she cropped the image! The painting can also be seen as a "goodbye" to her life in New York. Soon after, she moved to the Southwest.
That's interesting about the connection to photography. And to today, how we constantly "crop" shots on New York with our phone cameras.
We absolutely do! I think this view of the Brooklyn Bridge, which is not the iconic wide-angle sort of view, is closer to how people experience the Bridge from walking across it, and how we would create an image of it today (especially on a camera phone).
Why was this bridge important for O'Keeffe?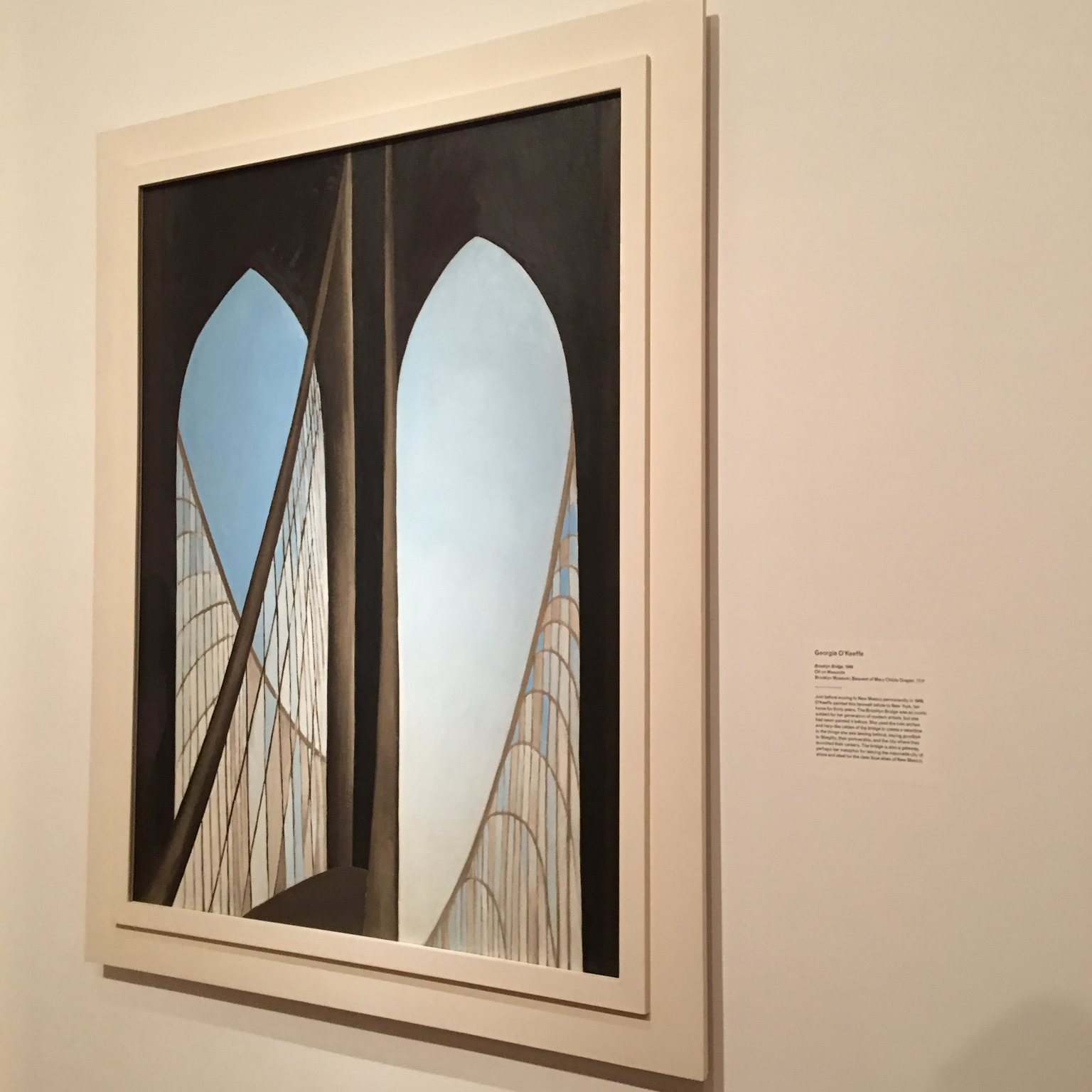 Good question. O'Keeffe started to paint modern architecture in order to get away from flower imagery. Many critics of her time talked about her flower painting in a heavily sexualized and gendered way, so she chose architecture as a marked departure in her work. 
You can also see the influence of her partner Alfred Stieglitz and photographers who also often took architecture as their subject in the 1920s.  New York was seeing the construction of many new skyscrapers and bridges, and artists wanted to capture the city's growth.
This looks like a bridge!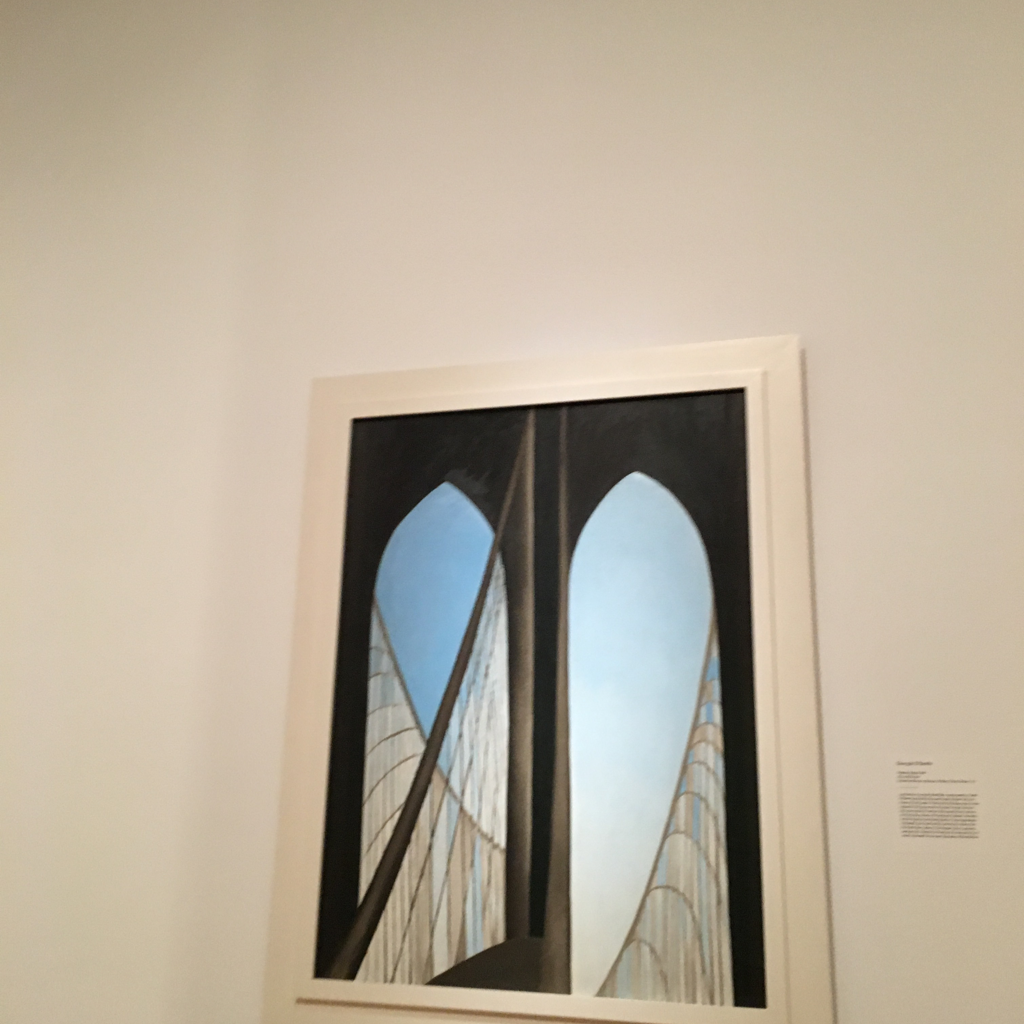 Good call! This painting of the Brooklyn Bridge was the last painting O'Keeffe made in New York City before leaving for New Mexico for good.
Can you identify from which side of the bridge she painted this?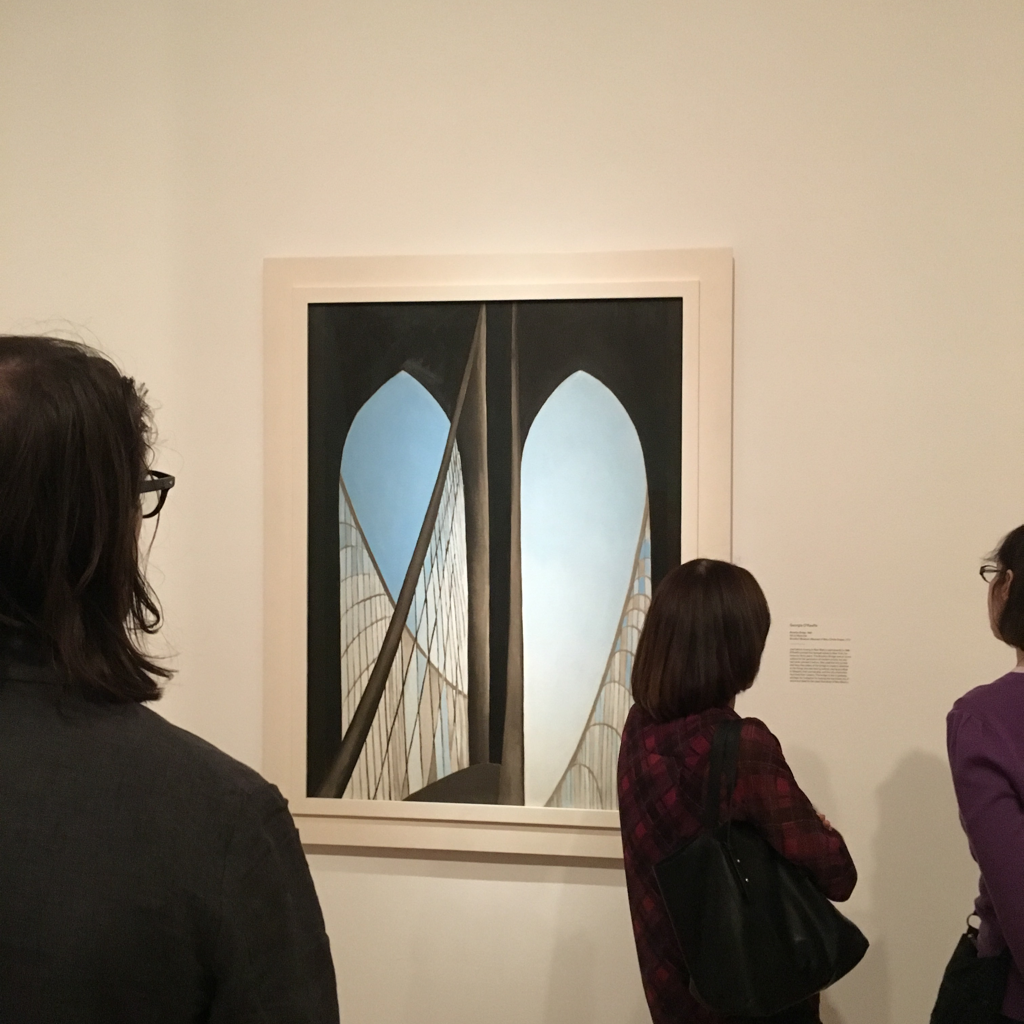 We actually don't know! She has "zoomed in" on this section of the bridge, instead of giving us a panoramic view. She's more interested in the bridge itself than its setting.
No question, just a comment:  I love the beautiful symmetry and asymmetry of this painting.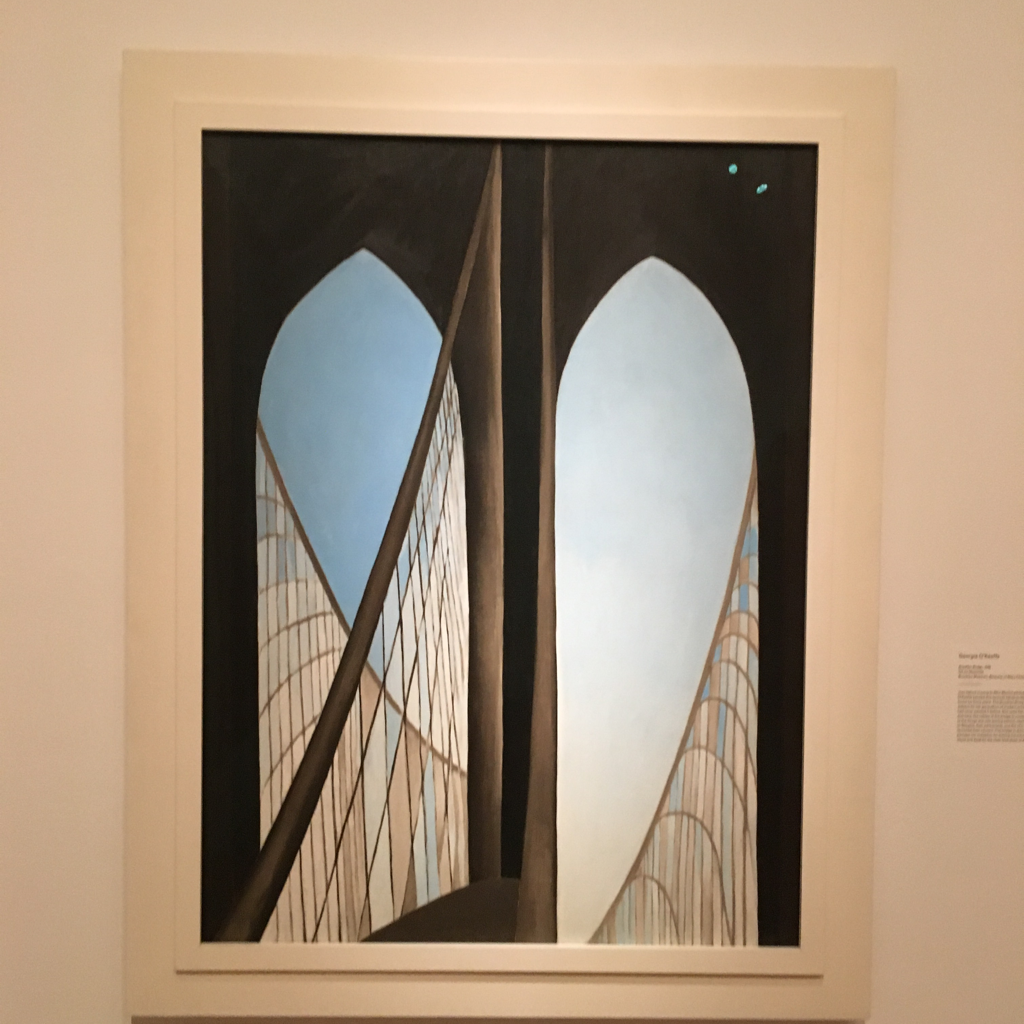 Hi! Thanks for sharing! Many people share your love of O'Keeffe's farewell painting to New York. One scholar even compares the two sides to a double portrait of O'Keeffe and Stieglitz.
By all accounts, O'Keeffe was glad to finally leave New York behind for good. I think you can see her happiness in the blueness of the sky and how similar it is to the way she painted the sky in New Mexico.
How does this painting relate to Stieglitz and O'Keeffe's relationship?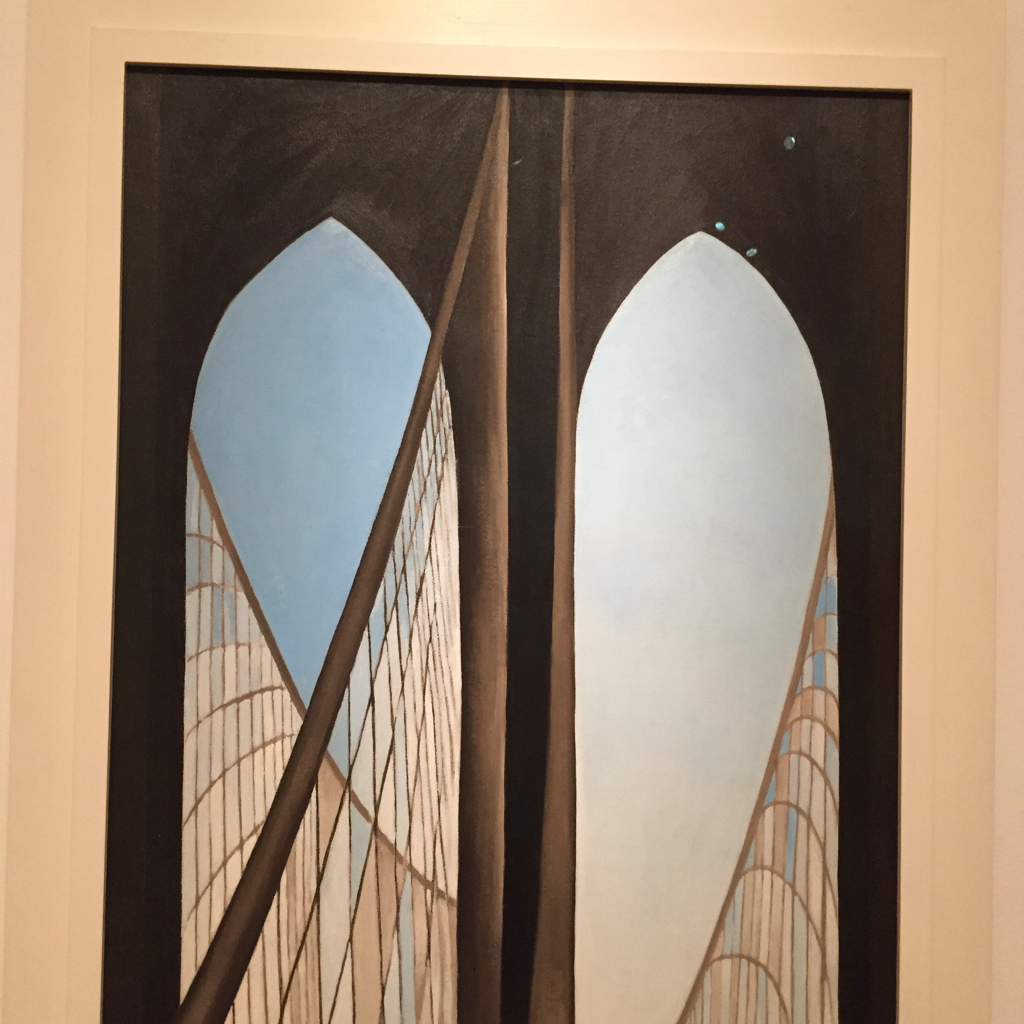 The curator has interpreted the shapes of the two archways in the bridge as two people. This was the last painting O'Keeffe made in New York, her farewell to the city and to her late husband. She was only back in NYC for one last visit to settle his affairs. And to me, personally, the way she rendered the cables resembles the sweeping capes they both wore in the 1920s and 1930s.
An interesting aside that makes this painting kind of funny: Stieglitz was a little bit old-fashioned in that, he didn't trust this new-fangled suspension bridge and thought the Brooklyn Bridge would fall down!
Do you know if she was on the Brooklyn Bridge when she was painting this?
That is an excellent question! We know she created the painting in her studio and not "en plein air" at the bridge itself. She rode across the bridge several times in a car and may have made sketches "on site."
Looks like stained glass.
Great observation!! The architect of the bridge was intentionally referencing the pointed Gothic arch, like those found in cathedrals.
Lovely bridge. I read a book about its construction. Thanks for your input.
Where was this painting exhibited?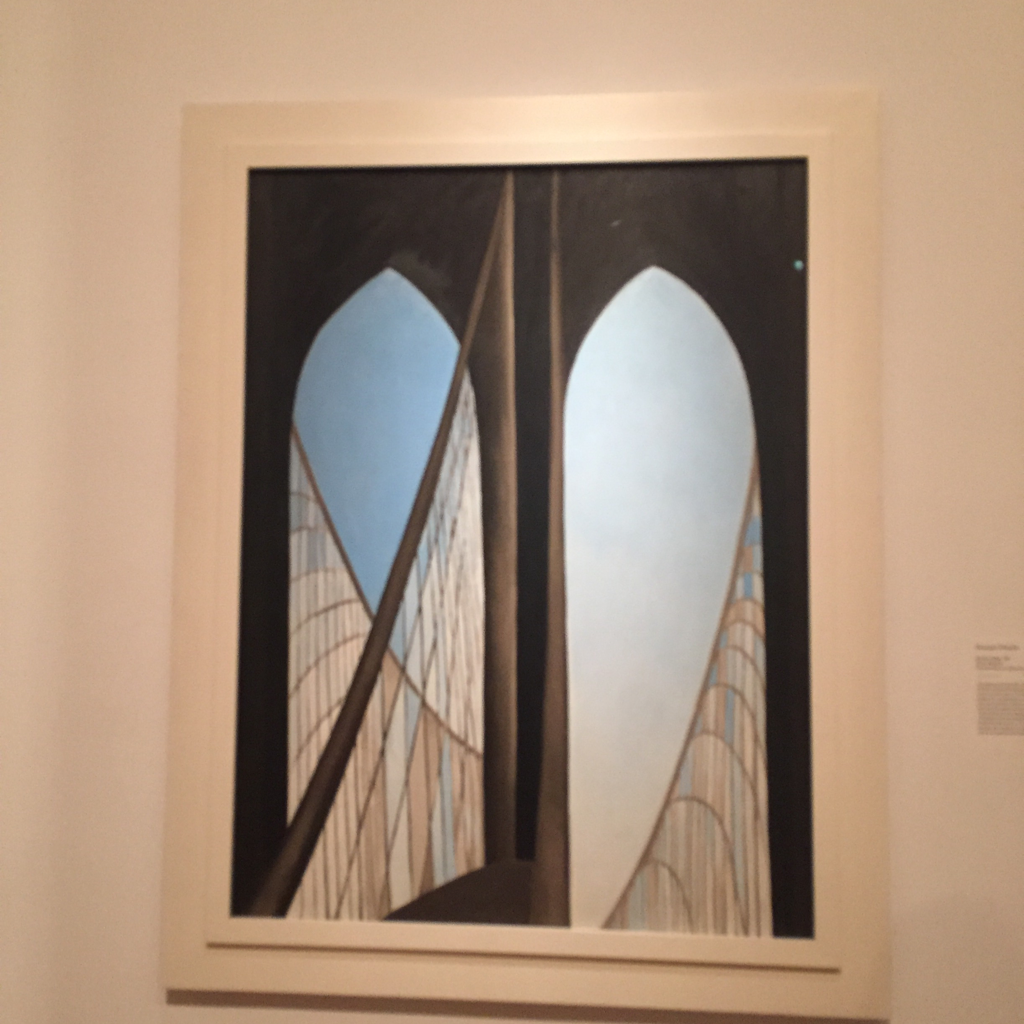 This work is actually a part of the Brooklyn Museum's collection and has been in various exhibitions the museum has organized over the years, from 1989 to 2017!
Tell me more.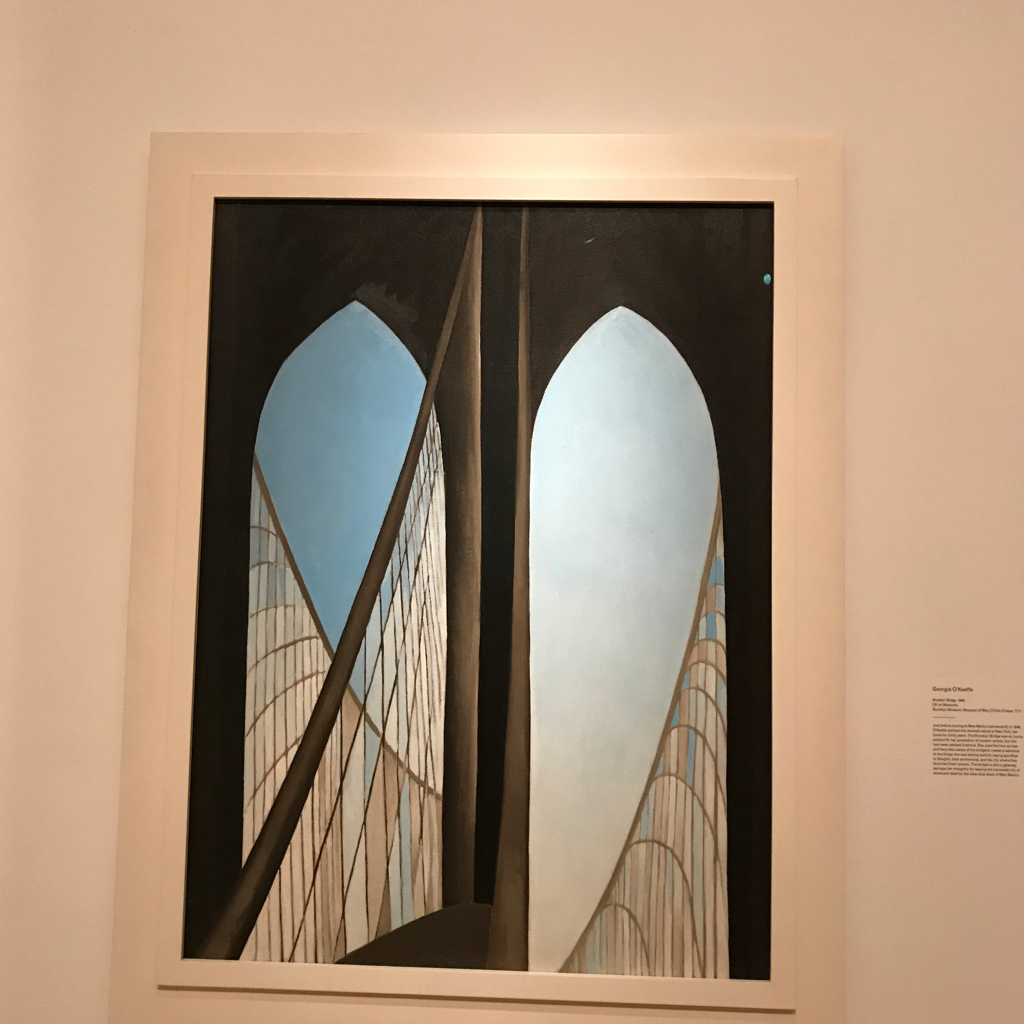 This painting of the Brooklyn Bridge was one of O'Keeffe's last paintings before she moved permanently to New Mexico in 1949. After construction on the Brooklyn Bridge was completed in 1883, it became a popular subject for artists in the city, and a symbol of modernity. Georgia O'Keeffe tapped into this trend, while also deploying her own interest in shape and color in her painting.
How does this painting fit into O'Keeffe's broader career?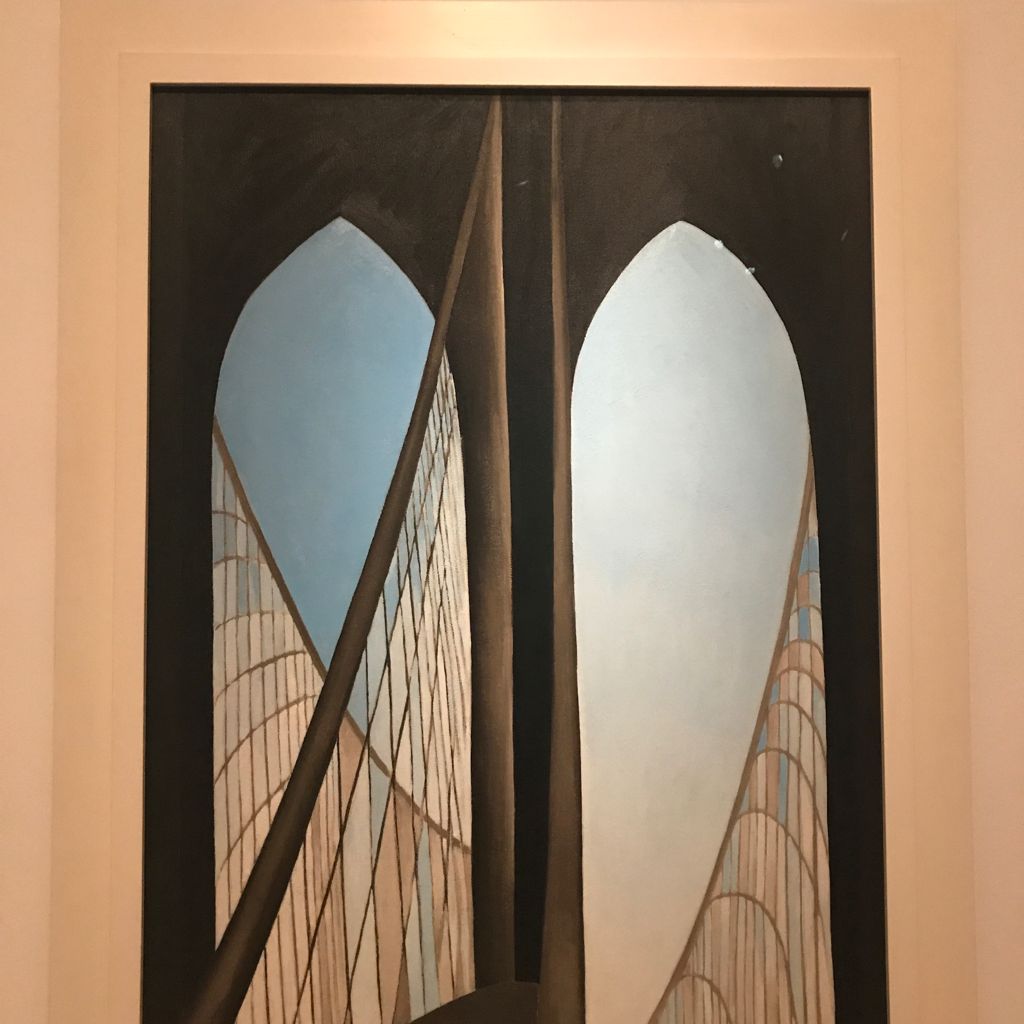 This was the last painting O'Keeffe made in New York City, a farewell to its architecture and so many other things in her life. It is interesting, though, that this work incorporates the kind of blue sky that also appears over and over in New Mexico paintings.
This reminds me of a painting by Joseph Stella.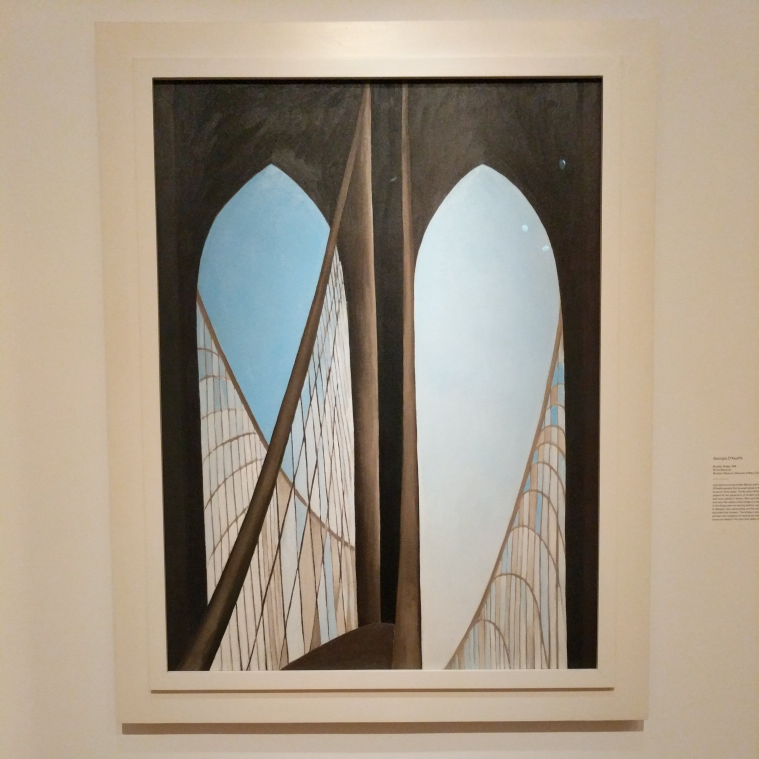 The bridge was definitely a popular subject for artists living in NYC after its completion in 1883, and Joseph Stella did include it in several of his best-known paintings! O'Keeffe's version focuses on the cables and the cropped perspective, rather than a panoramic view of the city.
Does this painting have a religious meaning?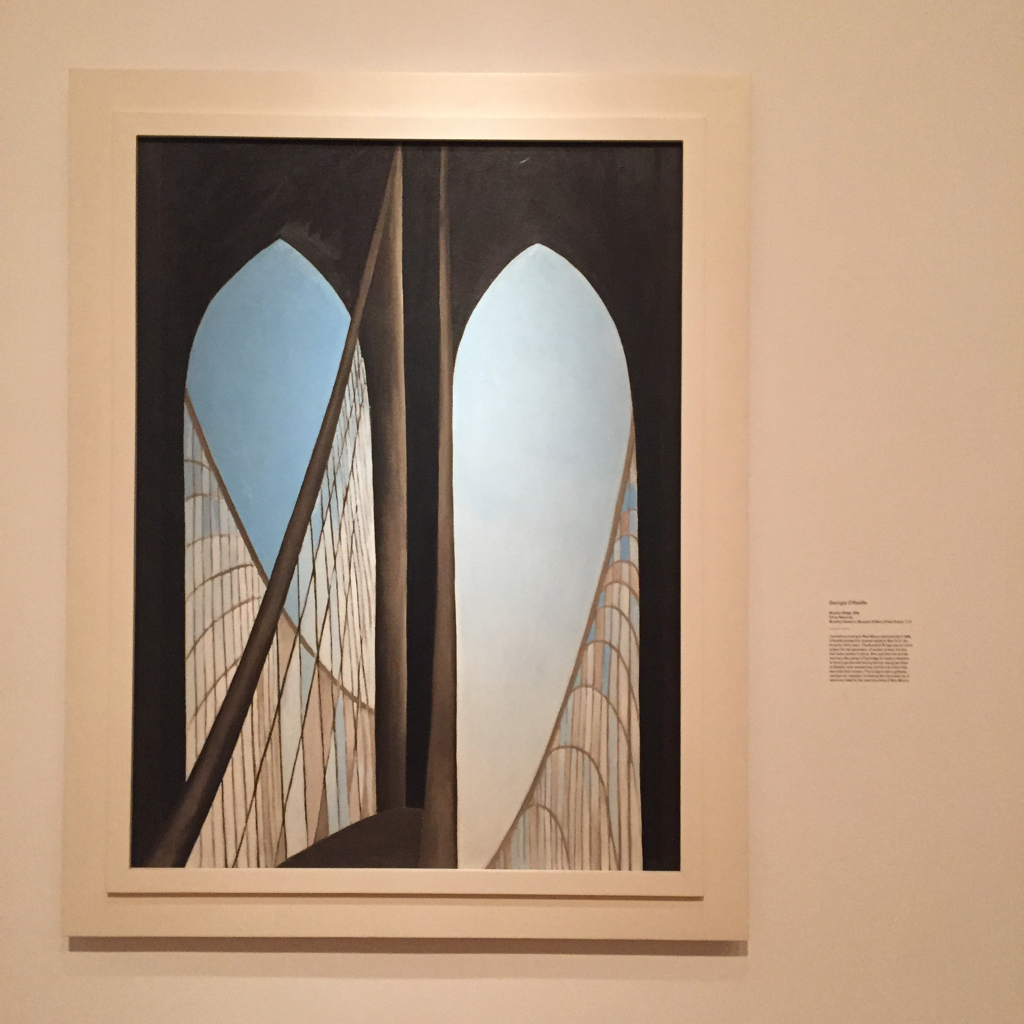 You are not the first visitor to compare this painting to religious architecture! The pointed arches of the Brooklyn Bridge are, indeed, quite Gothic. Like many of O'Keeffe's paintings, this is a unique viewpoint and also an unusual way to crop the bridge. Her methods of abstraction are part of what make her work so interesting!