Can you tell me who painted this?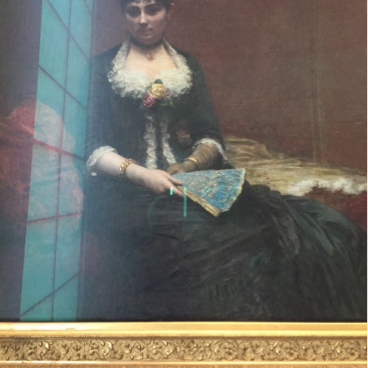 The painter is Henri Fantin-Latour, a French painter from the late-19th century. He trained for a time with the radical Realist painter Gustave Courbet and was a friend of many avant-garde artists of the period like James McNeill Whistler, Edouard Manet, and many of the Impressionists. Like his friends, Fantin-Latour had a taste for modern life and contemporary scenes, but he was not attracted to plein-air (or out doors) painting. His interior scenes and portraits, like this one, have a pensive intimacy.  He was very well known for his paintings of flower bouquets and you can see his skill in the lace and corsage depicted on Madame Léon Maître's dress in this painting. Later in career, beginning in the 1870s, he turned to allegorical, mythological and literary subjects, typical of a trend in modern painting called Symbolism.
Could you give me some information?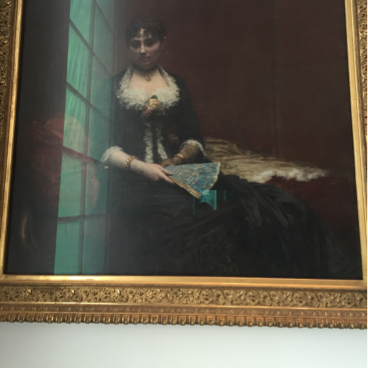 The subject of this painting is the sister-in-law of a friend of the artist, Henri Fantin-Latour. She was the wife of a businessman Leon Maitre. Fantin-Latour painted her three times. LaTour prefered painting quiet scenes of men and women he knew well. Like Madame Maitre, they often seem absorbed in their own interior world, a new development in society portraiture.
Surprisingly, considering how beautiful and mysterious this portrait is, the artist is best known for paintings of flowers and group portraits, not portraits of a single subject.