Do the other 18 in the series still exist?
Yes, in fact they are housed in public and private collections around the world.
How quickly did Monet have to paint to capture the light at this moment?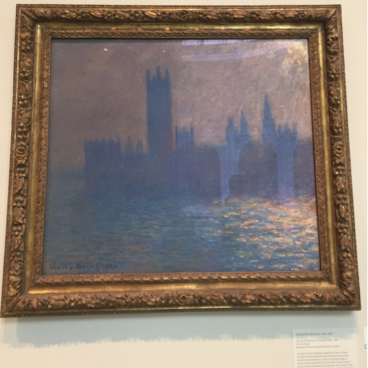 Monet worked on this painting over the course of three winters. During these painting campaigns from 1899 to 1901, Monet stationed himself on the balcony of Saint Thomas' Hospital, across the river from his subject, substituting one canvas for another—nineteen in all—as changing weather and light conditions dictated.
He worked frantically, attempting with each change of light and atmosphere to find the canvas which most closely resembled what he saw.
However, he also took the pictures back to his studio in Giverny, France and continued working on them. The goal was to have the paintings work together harmoniously in the series. To give you a sense of Monet's process, in 1903, he wrote to his dealer Durand-Ruel: "I cannot send you a single canvas of London...It is indispensable to have them all before me, and to tell the truth not one is definitely finished. I develop them all together."  It is therefore actually quite hard to say exactly how long he spent on an individual canvas.
Where did he paint this?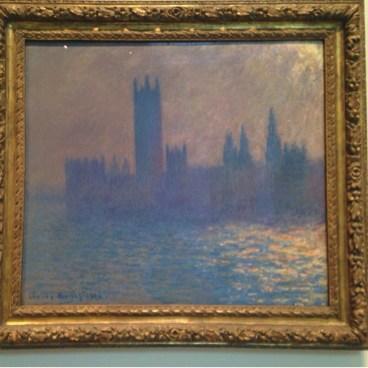 Monet worked on this and nineteen other paintings of London's Houses of Parliament over the course of three winters from 1899 to 1901. During these painting campaigns, Monet stationed himself on the balcony of Saint Thomas' Hospital, across the Thames River (still there today). He substituted one canvas for another as changing weather and light conditions dictated.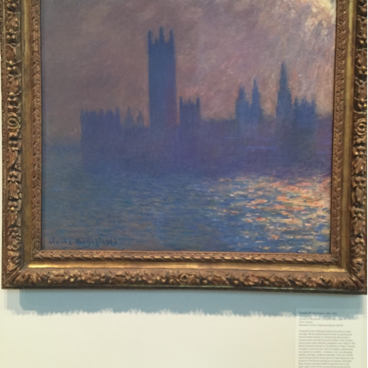 I personally had a new take on this painting, when I saw a blog post about how pollution was portrayed in art, and Monet's paintings were mentioned. It's interesting to remember that city-dwellers have been dealing with pollution for centuries!
Is this an original Monet?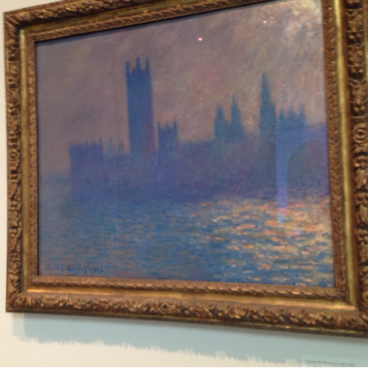 Yes, this is an original Monet! There are two Monet paintings on that wall. This one shows a view in London, and the other shows a scene in Venice.
Why did the Museum put a Matisse next to a Monet? Is there a symbolism behind painting placement?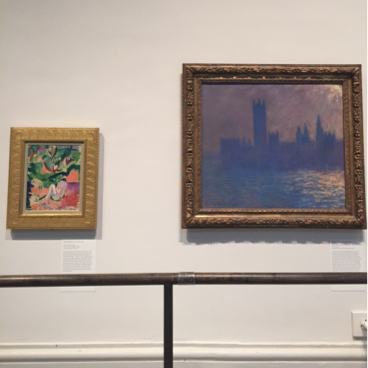 Well, that wall is installed chronologically and the Monet and Matisse were painted just two years apart, despite their great difference in style. Another possible answer to your question is that Monet (particularly in this late period) had a great deal of influence on Matisse and artists of his generation. Especially in terms of the expressive possibilities of color.
Ok, I could see that. This pairing just seemed so much darker. I didn't know if they had something in common.
Well the subject of all the pictures on this wall is landscape. Though Monet's picture is certainly depicting a very different kind of landscape than Matisse. Regarding color though, there is a contrast here as well. Monet's intention was to "document" the surprisingly colored atmosphere created by the sun and fog in London over the Thames. Matisse, on the other hand, isn't intending to reproduce the colors he sees in nature at all (or at least not only that). Many of his colors are exaggerated or even arbitrary.
How many works by Monet does this museum have?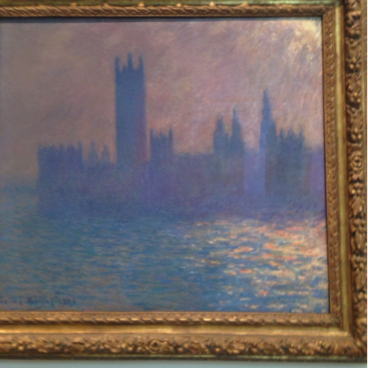 The Museum has 5 paintings by Claude Monet and currently two are on view in the Beaux-Arts Court. This one is called "Houses of Parliament." 
Along with a third Monet from our collections, we also have some very special Monet paintings on loan right now in our Special Exhibition on the 4th floor about Francisco Oller. There are paintings by Cézanne, Pissarro, Caillebotte and many other Impressionist artists in the show. I highly recommend taking a look!
I have heard it said that some of Turner's paintings were influenced by the volcano explosion at that time creating vivid sunsets. Was this also true of Monet?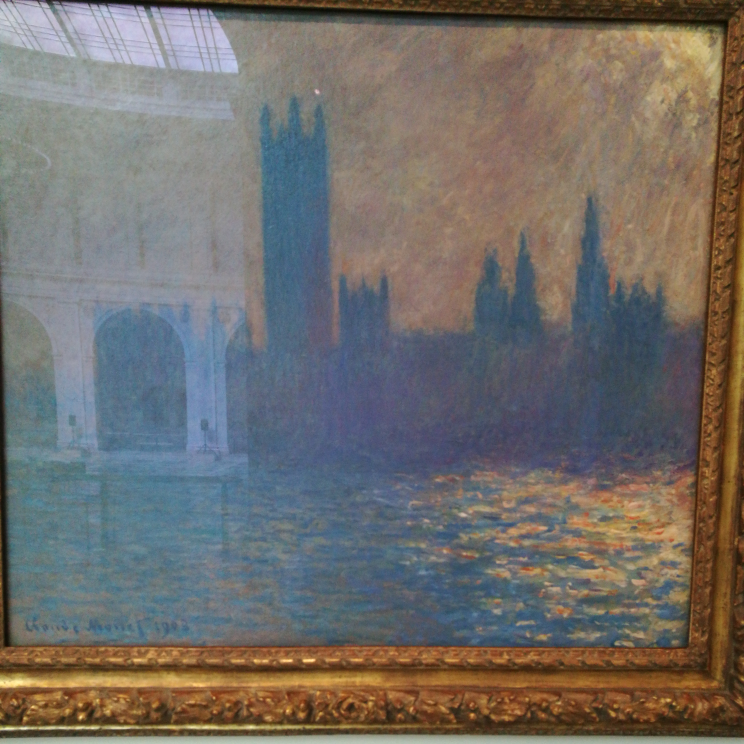 You must be referring to the eruption of Krakatoa which happened in 1883 and caused a lot of ash to travel widely and even reached Europe. Painters in Europe could also see the colors of the sky changing after the Tambora volcano in Indonesia, which erupted in 1815. However, this would not have had a huge effect on how the world is perceived, or at least not more than, say, a foggy day would.
What was much more relevant to Monet's vision is his eyesight, which had been gradually failing from around 1900. By the 1910s, 70-year-old Monet had cataracts in both eyes, causing his color vision to diminish: bright whites and reds became yellow; blues were replaced by warm purples and pinks. So when he paints the buildings purple and the sky using pink and green, he is not simply choosing colors at random, but adamantly following his major principle - paint what you see - despite ever-growing awareness that his own eyes are deceiving him.
Breaks your heart a bit, doesn't it?
Would this be considered one of Monet's better works?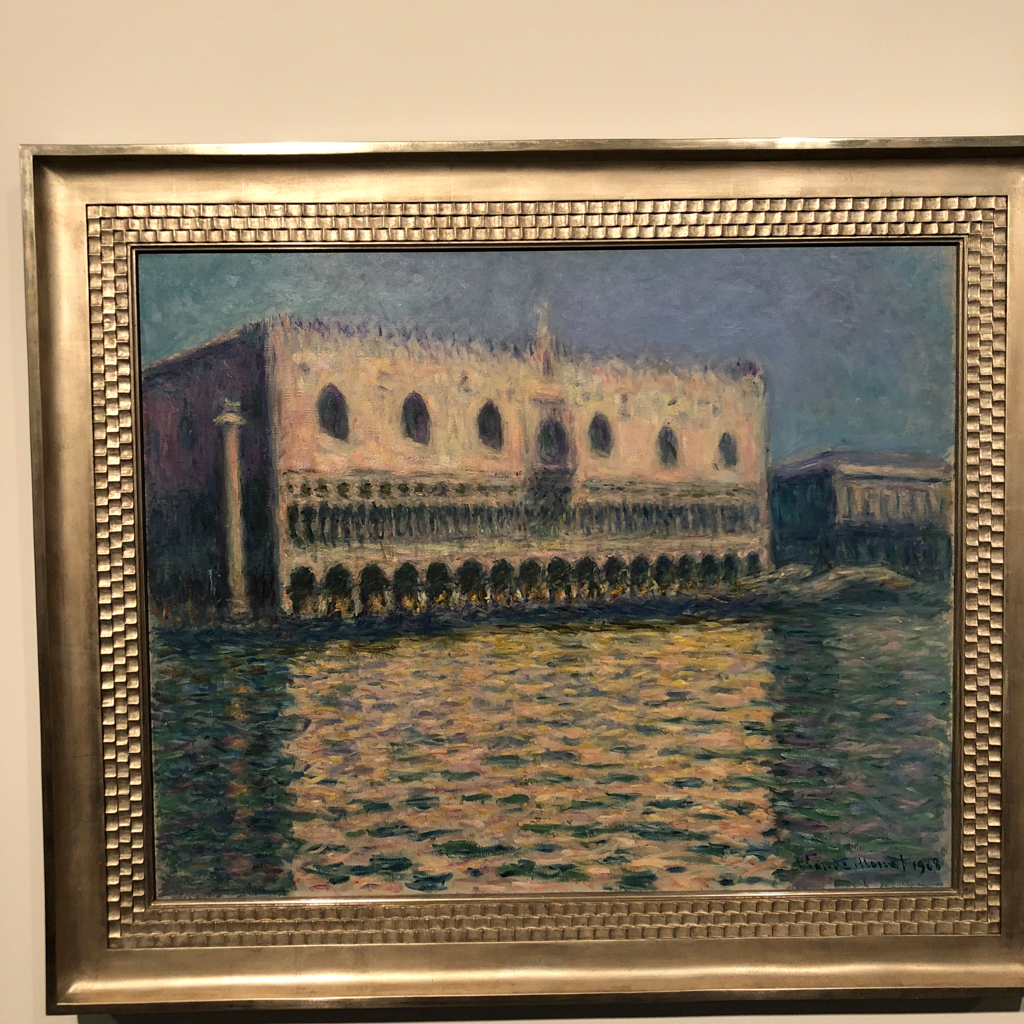 That's an interesting question! It is certainly one of the best-known works from his sojourn in Venice.
The interesting thing about Monet's paintings is that they are often conceived of in groups; he would paint the same view many times, at different times of day and lighting conditions. So it can be difficult to say that one painting from the group is the best.
What do you think of the painting?
It's really well blended and highlights the landscape well, curious to know how long it took for him to become mature as an artist.
I agree! I think he really captured the way the light shimmers on the surface of the water.
Monet was 33 when he painted "Impression: Sunrise" a painting which was many people rejected for being too loose, but which is now recognized as being a very important early Impressionistic painting (and the one that gave the movement its name).
Many of his best known paintings (his Waterlilies and views of the Rouen Cathedral) were painted when he was in his 50s. By the time Monet went to Venice, he was 68 and an established painter.
There is another Monet on view in the Infinite Blue exhibit on the first floor. It is of the Houses of Parliament in London and was painted 5 years before his Venice trip.
Very interesting facts, thank you for the info. Will be sure to check out Houses of Parliament