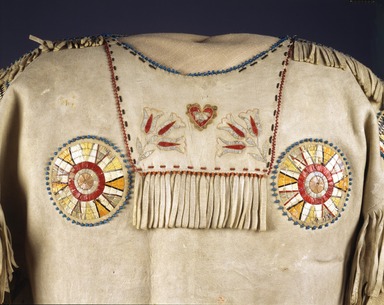 Chief's War Shirt
Artist:Red River MetisYanktonai, Nakota, Sioux
Medium: Buckskin, porcupine quills, garnet beads, pony beads, seed beads, thread
Geograhical Locations:
Fort Snelling, Minnesota, United States
Dates:19th century
Dimensions: 39 in. (99.1 cm) Floor to top of mannequin- 56 ½ " Base of mannequin 12 x 12" Shirt on the mannequin Front 40 " long Back 39" long Width of the shirt on the mannequin across the front with the arms at a slight angle as they are now- 36" Shoulder width across the front- 24 1/2" Front to the back width on the side is 16" Length of sleeves 2
Collections:
Exhibitions:
Accession Number: 50.67.4
Image: 50.67.4_front_SL4.jpg,
Catalogue Description: Man's shirt decorated with beads and quillwork executed in several techniques. The bib has a heart and two flower sprays in red, green, and blue porcupine quills. The top edge is decorated with blue pony beads in a two-bead edging technique: red garnet beads were applied along the sides with the same technique. An inner broken line border of small red and black seed beads are also sewn on the bib. Two "rays" or "spokes". The inner ring, now grey, is surrounded by a ring of light blue which is then encircled by a red ring. The radiant rays are filled with areas quilled in pale yellow, light blue, and orange. Each entire rosette is encircled at the seam by large blue pony beads. The shoulder seam "coverings" were finely woven on a loom, but are now very deteriorated. A geometric pattern of red and blue "Xs", interspersed with red and blue diamonds are edged with small squares in red, black, and blue. The shoulder strips are checkered, quilled with three lines of colored squares in orange, blue, purple, black, yellow and white and finished along the sides with a zigzag pattern. The seam ornaments and shoulder strips are both edged with a single line of the blue pony beads. Tabs along each side and along the sleeves have pierced decoration. The "cuffs" are ornamented with two lines of blue pony beads. First, a single line and then a double line closer to the opening. The side seams and sleeves have long fringes, but very tiny fringes at the wrist, with every other one wrapped with orange quills. The comparatively simple decoration and unwrapped fringe are possibly due to the fact the shirt produced exclusively for sale and so rated less decoration. See Jarvis report in Arts of Americas' files.
Brooklyn Museum