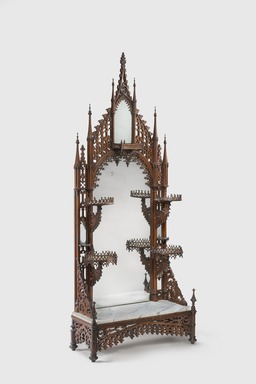 Etagere
Medium: Rosewood veneer, wood, paint, tin-mercury amalgam mirrored glass, marble, steel hardware
Geograhical Locations:
Dates:ca. 1845-1855
Dimensions: 81 × 33 5/16 × 13 1/2 in. (205.7 × 84.6 × 34.3 cm)
Collections:
Exhibitions:
Modern Gothic: The Inventive Furniture of Kimbel and Cabus, 1863-82
Accession Number: 76.101
Image: 76.101_GavinAshworth.jpg,
Catalogue Description: White marble top; four turned and fluted feet, the front two topped with pointed finials; front apron of base in overall shape of widened Gothic arch of Gothic jig-cut decoration; marble top has bevelled edge and is inset at front corners to allow for finials on front feet; back of etagere is elongated vertical Gothic arch consisting of jig-cut rosewood set between four columns which terminate in Gothic turrets; main mirror of back has round top framed by Gothic jig-cut work; four bracket shelves, two on each side of mirror; lower shelves supported by jig-cut brackets; shelves are eight inward lobed shapes, Gothic and jig-cut laminated rosewood railing suspended from bottom of shelf following shape of shelf, upper shelves supported by Gotrhic jig-cut brackets; shelves are round and have Gothic jig-cut and laminated rosewood galleries; two small shelves on either side of etagere-back between the upper and lower bracket shelves; shelves are lobe-shaped with double finials at point of each lobe; small mirror framed in Gothic arch at back of each of these small shelves; small rectangular shelf at top of main mirror; has Gothic jig-cut gallery; four quarter arc brackets, each one extending from a corner of the bottom of the shelf are joined at the center with a drop finial; small mirror behind shelf is in Gothic arch jig-cut frame; on either side of small mirror is a column termintating in pointed Gothic finial; stylized leaf shape terminates overall Gothic arch shape of back; back visually joined with base by two Gothic jig-cut triangular brackets which incorporate stylized bird motif; brackets rest on either end of base top on short sides against aback of etagere; small piece of jig-cut laminated gallery or railing in separate envelope. CONDITION: Front apron: rosewood veneer chipped in fifteen places; one stylized suspended cruciform of apron scheme has broken off and is missing, some glazing of finish along molding; two patches of black encrustation on right side; front right foot is split beneath turret. Lower left shelf: gallery in four lobes is broken; gallery gone in fifth lobe; bracket has been broken and wired together; one jig-cut drop has broken off. Lower right shelf: gallery broken in four lobes; one jig-cut drop broken off bracket. Upper left shelf: gallery broken in three places, suspended railing completely missing; upper right shelf: gallery broken in four places, about half of it is there, suspended railing completely missing, bracket has been broken and is wired together; upper rectangular shelf: white paint spot on top, drops or suspended railings which once went around outer edge of shelf are missing; applied molding or ornament at bottom of leaf finial of etagere back is missing.
Brooklyn Museum