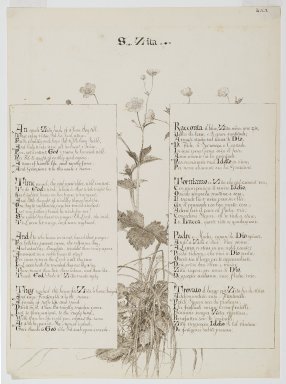 S. Zita
Artist:Esther Frances (Francesca) Alexander
Medium: Brown ink on cream, moderately thick, slightly textured wove paper.
Dates:1874-1882
Dimensions: Sheet: 14 15/16 x 10 15/16 in. (37.9 x 27.8 cm)
Collections:
Exhibitions:
Fine Lines: American Drawings from the Brooklyn Museum
Accession Number: 83.33.1
Image: 83.33.1_PS2.jpg,
Catalogue Description: This drawing is one of a set of 122 illustrations the artist made for "Roadside Songs of Tuscany" (English edition, 1885; American edition, 1897). Poem written in two registers flanking a flowering plant, in English at left and in Italian at right. Verse in English reads: "An uncle Zita had, of whom they tell, / That every Virtue did his soul attire. / Faith, charity and hope did with him dwell, / And holy works were all his heart's desire. / Poor, yet content, God's name he honored well, / Nor did to aught of earthly good aspire. / A man of humble life, and saintly fame; / And Graziano was this uncle's name. / Time passed, the girl grew older, well content, / To do God's work, whate'er that work might be: / her brightest hours on her knees were spent, / And little thought of worldly things had she. / One day to saddening care her mind was lent: / I eat my father's bread, he works for me! / She raised her heart in prayer: Oh Lord, she said, / To Lucca let me go, and earn my bread. / And he who hears in secret, heard that prayer: / For both her parents came, the selfsame day, / And asked her, Daughter, wouldst thou now prepare / As servant in a noble house to stay? / For since to serve the Lord is all thy care / In Lucca hath he marked thee out thy way. / There may'st thou live, there labour, and there die. / Thank God! So be it! Zita made reply. / They reached the house for Zita's home designed, / And casa Fantinelli was its name. / A family of noble life and mind / Dwelt in it, when the saintly maiden came. / Just to their servants, to the needy kind. / With them her life could pass, almost the same / As with her parents. She, rejoiced indeed, / Gave thanks to God who did such grace concede."
Brooklyn Museum