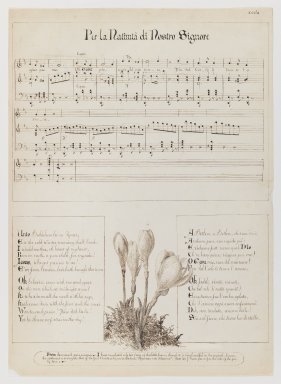 Per la Nativita di Nostro Signore
Artist:Esther Frances (Francesca) Alexander
Medium: Pen and ink on paper
Dates:1868-1882
Dimensions: Sheet: 15 1/8 x 10 15/16 in. (38.4 x 27.8 cm)
Collections:
Accession Number: 83.33.2
Image: 83.33.2_IMLS_PS3.jpg,
Catalogue Description: This drawing is one of a set of 122 illustrations the artist made for "Roadside Songs of Tuscany" (English edition, 1885; American edition, 1897). Sheet with music for hymn in upper half; in lower half, two verses flanking drawing of irises and, along bottom, inscribed banner. Verse at left, in English, reads: "Unto Bethlehem let us depart, / Ere the cold Winter morning shall break: / I would see thee, oh heart of my heart, / Born on earth, a poor child, for my sake! / Jesus, who art precious to see! / E'en from heaven, love hath brought thee to me. / Oh believers, come with me and gaze / O this sun which at midnight arose! / He who warms all the earth with his rays, / Hath come down with the frost and the snows. / Wonder and praise! There doth he lie! / Yet his throne is of stars in the sky!" Verse at right, in Italian, reads: "A Bethlem, a Bethlem, oh cuor mio, Andiam pure, con rapido piè: E vedremo fatt'uomo quel Dio / Ch'or languisce, vagisce per me! / O Gesu mio, cuor del mio cuore! / Fin dal Cielo ti trasse l'amore. / Oh fedeli, venite, mirate, / Che bel sole di note spuntò! / Ecco, rema fra l'ombre gelate, / Chi d'amore ogni cuore infiammò. / Deh, non tardate, anime belle! / Sta sul fieno, chi trono ha di stelle." In banner at bottom: "From the corona di sacre canzone. I have translated only two verses of this little hymn, though it is very beautiful in the original, because / the sentiment is so very like that of the first Christmas hymn in the book: 'Mira cuor mio durissimo': these two I have put in for the sake of the pret- / -ty tune."
Brooklyn Museum