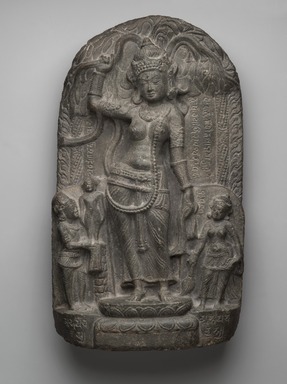 Nativity Scene: The Birth of the Buddha
Medium: Gray schist
Geograhical Locations:
Dates:9th century
Dimensions: 15 1/2 x 9 x 4 1/8 in. (39.4 x 22.9 x 10.5 cm)
Collections:
Accession Number: 85.223.2
Image: 85.223.2_PS2.jpg,
Catalogue Description: A representation of Queen Maya giving birth to the Buddha (probably part of a set of reliefs depicting Buddha's life scenes) suggest the mid-9th century Nalanda stone sculpture style. The facial features and fleshy quality of the body show a close relation to pieces from that great Buddhist monastic and artistic center in Eastern India. While the tribhanga posture is not unusual for Pala stone images of Maya giving birth (see Huntingdon "The Pala-Sena Schools of Sculpture", 1984, pp. 112-113, fig. 128) the relaxed and animated pose is associated with the Nalanda Workshop. Iconographic and stylistic details (hair, headdress, costume, jewelry) recall other female Buddhist deities of the period from Eastern India as well. Unlike later Pala steles which typically have the central figure carve in higher relief than the side figures, this stele conforms to mid-ninth century style in its iconographic elements, precise carving, and careful spacing and equal emphasis on the carving of all figures. The birth is depicted in an unconventional manner: rather than emerging from Queen Maya's right hip, the infant Siddhartha is depicted standing erect held at the left by Indra, King of the Gods. At the center, a large figure of Queen Maya stands holding a branch of the Sala Tree, which refers to the primordial tree goddess (Salabhanjika) who becomes fertile when she touches the branches of the tree. An inscription on the relief has not been translated. With the exception of several loans, the Museum does not have any exceptional Pala period reliefs, and those on loan which are largely iconic representations (whether Hindu or Buddhist) rather than narrative compositions. After the success of the Light of Asia exhibition, held at the Brooklyn Museum in 1984, we have sought such exemplary representations of Buddha's life. Arrived with its own wood base (not attached). Condition: excellent. Minor abrasions at head of infant Buddha. Minor pitting of the surface throughout.
Brooklyn Museum