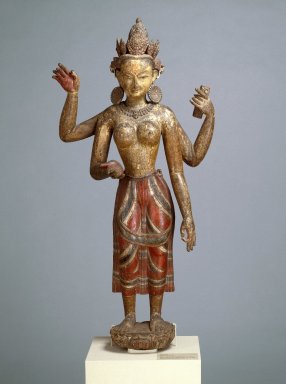 Vasudhara
Medium: Polychromed wood
Geograhical Locations:
Dates:16th century
Dimensions: 53 3/4 x 24 x 15 1/2 in. (136.5 x 61 x 39.4 cm)
Collections:
Museum Location: Asian Galleries, Arts of the Himalayas, 2nd floor
Exhibitions:
The Goddess in Indian Art
Arts of the Himalayas
Accession Number: 86.137
Image: 86.137_SL1.jpg,
Catalogue Description: A four-armed goddess holds a book (pustaka) in her upper left hand. Her right upper hand is in abhaya mudra (a gesture meaning "do not fear") while her lower right hand is in a variation on the varada mudra (wish-granting gesture). Her lower left hand may be in vitarka mudra (a teaching gesture), although in its pendant position it is more likely that it held something -- like the stem of a sheaf of corn -- that is now gone. The Goddess wears a colorfully striped lower garment and a crown with a high coiffure. The original color of the body, now faded, was white or yellow. The palms of her hands are painted red. The figure is executed in the round. Eight small figures standing in niches are carved into the base. Originally identified as Sarasvati, the Hindu goddess of wisdom, because of the small book she carries, it is more likely that this figure represents Vasudhara, a Buddhist goddess of wealth and abundance. Much worshipped in Nepal, Vasudhara is usually represented with golden skin and abundant jewelry. She is often depicted holding a book, although it is not her primary attribute. Most often she makes the wish-granting gesture (varada mudra) and holds a sheaf of corn (possibly now missing from her lower left hand). Condition: Figure cracked in the back and left side of lotus base. Upper left arm reinforced by wooden prongs; upper right arm somewhat loose. Separate modern wood base. Polychrome surface has many scattered old losses, particularly on the lower part of head at the front, and on front of lower right arm. Scattered small losses to wood with large piece out at top of upper right arm. Both upper arms are pieces and joints open. Also received separate modern wood base, painted brown, unweighted. (Cube-shaped peg under base of figure fits separate base).
Brooklyn Museum