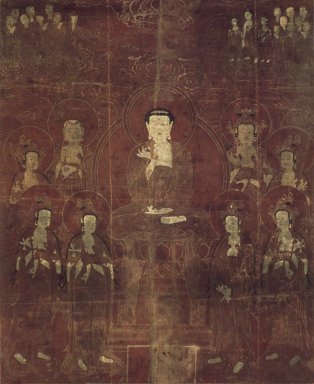 Amit'a (Amitabha) and the Eight Bodhisattvas
Medium: Hanging scroll; ink and gold on silk
Geograhical Locations:
Dates:Dated in accordance with 1666
Dimensions: 39 x 32 in. (99.1 x 81.3cm) Overall: 40 x 33 1/2 in. (101.6 x 85.1 cm)
Collections:
Accession Number: 86.260.1
Image: 86.260.1.jpg,
Catalogue Description: From "Korean Art Collection in the Brooklyn Museum" catalogue: This painting shows Buddhist figures drawn in gold lines on a rather thick, coarsely woven silk that was painted with red ground. Of the postscript, only a few words such as "Amitabha" "almsgiver" "un" "alms gatherer" "painter" and "Hyeonjong" are still legible. In the painting, seated Amitabha is flanked by Eight Bodhisattvas. At the top right there is an Amitabha triad with a group of eight arhats, and another group of eight is at the top left, all on clouds flying toward Amitabha's sermon. The principal Buddha exhibits a symbolic hand gesture, a circle made with the thumb and the middle finger, while Avalokitesvara holds a ritual sprinkler and a willow branch in his hands, Mahasthamaprapta, a scripture, and Ksitigarbha, a monk's staff and a magic pearl (cintamani). The arrangement of the eight bodhisattvas attending Amitabha on a horizontal composition reminds the viewers of the Buddhist paintings of the early Joseon dynasty. However, questions posed by other elements such as the Amitabha triad riding clouds along with sixteen arhats, the facial expressions, other details of the Buddhist figures, lax brush strokes, awkward designs of the robes, and the lots pedestal demand further research.
Brooklyn Museum