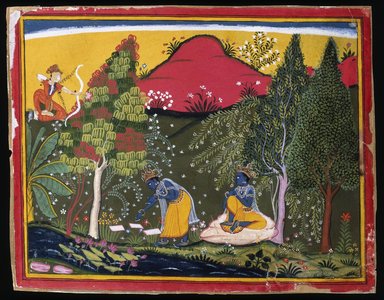 Cupid Disturbs Krishna's Penance, Page from a Gita Govinda Series
Artist:Indian
Medium: Opaque watercolor and gold on paper
Geograhical Locations:
Dates:ca. 1650-1660
Dimensions: Sheet: 7 5/8 x 9 3/4 in. (19.4 x 24.8 cm) Image: 6 7/8 x 8 3/4 in. (17.5 x 22.2 cm)
Collections:
Accession Number: 1990.186
Image: 1990.186_IMLS_SL2.jpg,
Catalogue Description: [From Realms of Heroism Catalogue]: In a continuous narrative, the bejeweled and crowned Krishna is depicted in two sequential scenes. At the right, he sits placidly on an outcropping of rock in a grove of trees, his flute beside him. His calm emotional state is further conveyed through elements of the surrounding landscape, the gentle sway of the trees and the calm flow of the river. At the left, Krishna bends to collect three "love-notes" that have been abandoned in his proximity. Here, his amorous excitement is echoed in the vigorous composition of dynamically curved tree branches, flowers adrift in the breezes, and lotus blossoms springing forth from the active currents of the river. Silhouetted against a yellow sky on the left horizon, Kama, the god of love, focuses his glance at the seated Krishna and takes aim with his lotus arrow. Although a common feature in this series is for the color to indicate the symmetrical division of the picture into two scenes, for example, various tonalities exclusive to one scene or the other, here the colors are evenly dispersed throughout the page, despite the apparent depiction of two consecutive scenes. Another characteristic of this series is the solitary mountain that surmounts the scenes and rests below the high, slightly curved line of clouds. The foliage is depicted in the typical manner of mid-seventeenth century Mewar painting, with the super positioning of variegated leaves and the liberal distribution of star-shaped flowers across the page. [From catalogue card]: In a continuous narrative, the blue god, bejeweled and crowned, Krishna is shown seated on a rock in a grove of trees, where he sees three paper notes dropped near him and goes to collect them. At the left, Kama, the god of love, aims a flowery bow and arrow toward him. The rushing and swirling composition of the trees on the left is in contrast to the placid shrubbery on the right, presages Krishna's awaited amorous feelings. No inscription identifying the scene. As is common in compositions from this horizontal Mewar set, a real mountain surmounts the scene below a high slightly curved horizon line, where two scenes are simultaneously depicted. This series is now dispersed, and pages are located in the Prince of Wales Museum, Bombay and private collection. Condition: Good. Some paint flaked from flesh tones, two vertical tears with some creases in paper at lower rim. Border uneven, creased and torn. Restoration along the right side of the painting.
Brooklyn Museum