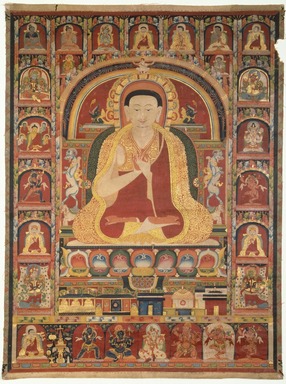 Portrait of Taglung Thangpa Chenpo
Medium: Opaque watercolor and gold on cotton
Geograhical Locations:
Dates:early to mid 14th century
Dimensions: 20 3/8 x 15 in. (51.8 x 38.1 cm)
Collections:
Accession Number: 1991.86
Image: 1991.86_SL1.jpg,
Catalogue Description: Portrait of the founder of the Taglung Monastery, seated at center inyogasana with red and saffron robes highlighted with gold, surrounded by 24 divinities and lamas. Tibetan script, contained within form of a stupa. The inscription names the teachers of taglungpa lineage, tranlated into Sanskrit but transcribed in Tibetan. ( For list names, see tnraslation by Heather Stoddard, attched to NOA).The lama represented is Thangpa Chenpo, or the " Great Thangpa" (1142-1210), founder of the monastery of taglung in 1180, and founder of the Taglung branch of the Karma Magyu school. These teachers of strict aceticism were widely respected, and the taglung monastery becamse one of the largest monasteries in Central Tibet, although later in its history, the monastery lost favor, leaving relatively few historical documents. The figures appearing around the central figure are mapped out on the reverse. The meditation scenes at the foot of the throne are not identified. One shows the lama seated in meidtation in a temple retreat with a blue tiled roof with another meditating figure to his right and with two attending monks. The other scene shows him in a white tent. To the left are three holden stupas, and to the rear are trees, perhaps representing the forests around the monastery. These scenes appear to represent important moments in the ascetics life, perhaps realting to the founding of Taglung. Lamas in yellow and orange hats sit on either side of the central figure's knees. They may represent Thangpa Chempo himself (orange hat) and another lama of the Karma Kagyu school (yellow hat). These same figures appear on two other Taglungpa thangkas which show similar scenes at the foot of the throne. The surrounding deities and teachers are associated with the karma kagyu school. Condition: Arrived unmounted. Intact. No apparent flaking. 1 1/4 void at upper right border. Tanka has been examined by Robert Bruce Gardner, Chief Conservator of the Courtauld Institute, who recommended not cleaning the surface since it was in such fine condition.
Brooklyn Museum