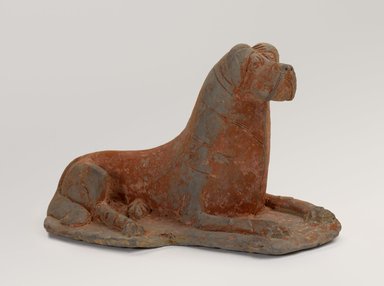 Figure of a Recumbent Dog
Medium: Gray earthenware with red polychrome
Geograhical Locations:
Dates:early 6th century
Dimensions: 3 5/8 x 6 1/4 x 3 5/8 in. (9.2 x 15.8 x 9.2 cm)
Collections:
Museum Location: Asian Galleries, West, 2nd floor (China)
Exhibitions:
Arts of China
The Guennol Collection: Cabinet of Wonders
Accession Number: 1998.85.1
Image: 1998.85.1_PS9.jpg,
Catalogue Description: Gray earthenware figure of a recumbent dog on a flat base. The animal is finely sculpted with its head raised in an attentive pose. Its well-articulated features, with a flat, square muzzle. Large pendulous lips and wide-opened eyes carry an alert and dignified expression. The neck and chest are broad and powerful, but the body gradually tapers towards the hindquarters. In profile, the topline is well-defined as it extends from the neck and along the back. The hindquarters are close to the body with the rear left leg tucked under and barely visible. A large and full tail extends downward in a relaxed manner. Shallow incised lines define musculature, markings on the fur, and facial features -- particularly the snout, the ridge of the nose, eyes, and two down-turned ears. Four parallel finely incised lines encircle the dog's chest; two short incised lines are found on each of the forelegs; three brief lines are located on the rear right leg. The figure was mold-made with possible hand-built additions. The gray earthenware body is primarily covered with red polychrome with traces of a buff-colored slip or pigment. The bottom of the base has no polychrome. Adhering to the bottom of the base are two paper inventory labels from C.T. Loo, Paris and J.J. Lally & Co. New York. Thermo luminescence testing done by Echo D. Evetts on June 25, 1997 on base, dating the object to the period consistent to the period of manufacture. As one of the earliest domesticated animals in China (by the 4th-5th millennium BCE), the dog functioned as guard and hunting animal and was also a symbol of fidelity. Canine remains have been found at the feet of the deceased in several Neolithic burial mounds and Shang tombs. Earthenware representations of dogs exist as early as the Neolithic period, but date generally from the Han to Tang dynasties as mingqi, or funerary ware. Examples of sturdy-looking hunting and working breeds appear most frequently either covered with glaze or with polychrome and in a variety of positions. The breed depicted here seems to derive from the mastiff family, which has an extended lineage in China as a working dog. Stylistically speaking, the sharp edge of the back beginning from the neck is comparable to earthenware representations of caparison horses and other dogs from the Six Dynasties period. Condition: Good. The red polychrome and white slip have been worn off in certain areas, with the most prominent being around the front right shoulder.
Brooklyn Museum