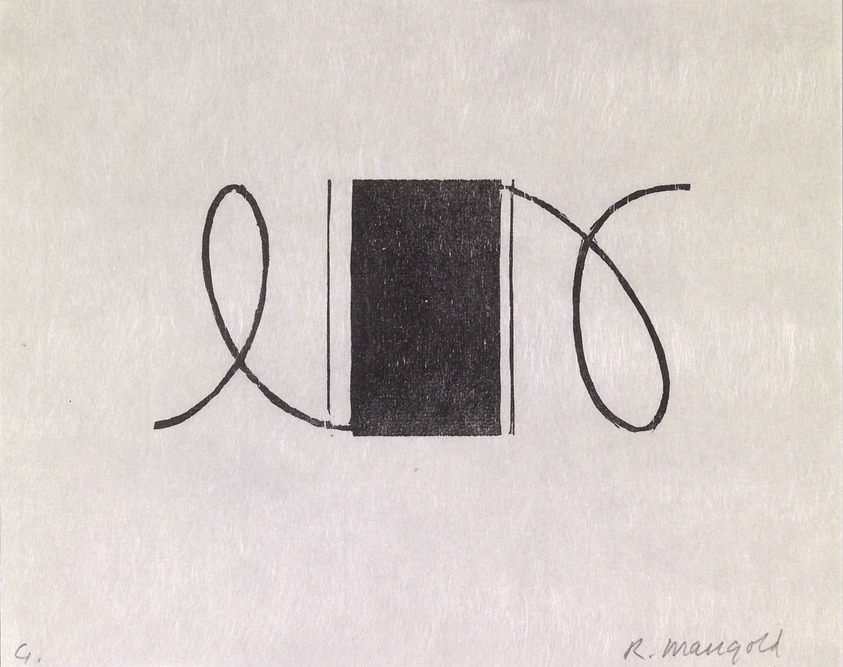 Robert Mangold Prints, 1968-1998 (Original Woodcut)
Artist:Robert MangoldCarol SturmFrancine HalversenParasol Press, Ltd.
Medium: Woodcut
Dates:2000
Dimensions: 8 11/16 x 10 5/8 in. (22 x 27 cm)
Collections:
Accession Number: 2004.38.13
Image: 2004.38.13.jpg,
Catalogue Description: This is one of seven original woodcuts belonging to the catalogue raisonné of Robert Mangold's prints. The catalogue raisonné consists of seven unbound sections: one section is the foreword to the raisonné, five sections arranged by print medium contain color reproductions and catalogue information of prints, and the last section contains seven original woodcuts. Each section is enclosed in an orange paper folder portfolio that has the title of the section printed on the cover. All the sections are housed together in a stiff orange paper flap case portfolio with an original woodcut mounted on top flap. Interior flap has the title of the raisonné. The entire catalogue raisonné is housed in tan linen over board flap case portfolio that has "R.M." on top flap. Affixed to outside of case is a circular yellow pressure sensitive sticker with the edition number written in ink: "218." A CD-ROM that contains files of all text and images accompanies the catalogue raisonné.
Brooklyn Museum