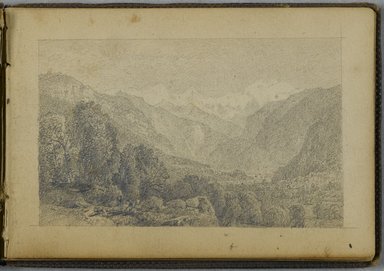 Sketchbook
Artist:William Trost Richards
Medium: Bound sketchbook with drawings in graphite on beige, moderately thick, smooth textured wove paper
Dates:1867
Dimensions: Closed: 3 5/8 x 5 1/4 in. (9.2 x 13.3 cm) Open: 3 5/8 x 10 1/8 in. (9.2 x 25.7 cm)
Collections:
Accession Number: 86.53.5
Image: 86.53.5_PS2.jpg,
Catalogue Description: Sketchbook of 34 pages, bound with brown fabric-covered cardboard covers, loop for pencil on inside front cover. Most pages with highly finished landscape drawings of fields, mountains, and forests within rectangular border, last few pages with looser sketches. Possibly Swiss landscapes, based on page 19 inscription. Square manufacturer's sticker, inside front cover, upper left: "Goupil's / Boradway, N.Y." with numerical identification at center: "772" Artist inscription (?), inside front cover, center, oriented vertically: "531 N.Y. ward" p1 Artist's inscription, center right: "William T. Richards / Shoemakers Lane / Germantown - / Pa" p2 Landscape with lake; mountains in background p3 Hillside with human and animal figures (Shepherd with sheep or dog?) p4 Rustic country scene, with fence and house in middle ground p5 Tree-lined creek, possibly figures seated alongside. p6 Tree-lined path, figure with horse, house in background p7 Two figures in a grassy foreground, with trees and mountain peak in background. p8 Tree-lined creek p9 Figures in the foreground in a field, sprawling landscape in background with creek. p10 Sprawling grassy hill with trees. Single figure in foreground p11 Mountainous landscape, with lake and possibly a figure in grassy foreground p12 Forest interior with creek p13 Creek, trees, possibly figures in middle ground p14 House and wagon amid trees p15 Mountainous landscape p16 Intimate scene of tree-lined path leading to fence. p17 Tree-lined creek, with two figures in middle ground p18 Intimate landscape of tree-lined creek, two(?) figures in middle ground p19 Intimate landscape of tree-lined creek p20 Figure plowing/mowing grassy field in foreground, some trees in middle ground, great white mountain peaks in background. Inscribed in graphite, lower right below image borders: "orchards at [Umbergeen?]." p21 Small tree-lined creek, some human and animal figures (horse and cart?) in middle ground p22 Landscape with trees and fence p23 Creek, with trees, leading to sprawling field p24 Scene of a house nestled among trees. Inscribed within image, lower right: "a.15." p25 Tree-lined creek, with sun or moon shining between branches. p26 Panoramic scene of fields and hills. Some figures in foreground/middle ground p27 Possibly a stormy scene of a field with windblown trees, two horses(?) in middleground p28 Rocky creek through a forest. Single figure in middle-background p29 Man and cow in foreground, houses in middleground, sprawling hills in background p30 Very loose sketch of trees p30verso, oriented upside down: Tree-lined path, man on horseback in background p31 Loose sketch of rocky, tree-lined creek. Figure on the banks? p32 Small, very loose sketch of a rock(?) p33 Loose sketch of trees p34 and 35 blank p35 verso, upside down: Very loose sketch, almost illegible. Grassy field? Possibly a body of water/creek. Inside back cover, oriented vertically on right side of page: loose sketch of trees, with some color notations including: "Red" "Gray" "Brown"
Brooklyn Museum