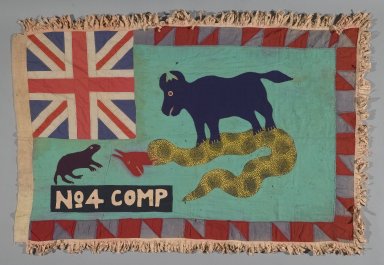 Asafo Company Flag (Frankaa)
Artist:Fante
Medium: Textile with appliqué and embroidery
Geograhical Locations:
Central Region, Ghana
La, Greater Accra Region, Ghana
Dates:early to mid-20th century
Dimensions: 54 x 37 1/2 in. (137.2 x 95.3 cm)
Collections:
Accession Number: 2009.39.2
Image: 2009.39.2_PS1.jpg,
Catalogue Description: The object is a double sided, textile (cotton?) Asafo flag. The flag is composed of a patchwork of different colored (cotton?) fabrics sewn together with variously colored (cotton?) thread. Appliqué and embroidery are used as design elements on both sides of the flag. All embroidery appears to be done in a chain stitch. The hoist of the flag is made of a band of two different beige fabrics that have been folded over and sewn along the vertical edge to allow room for a pole. The lower section (~8 ¼'') of the hoist is a closed weave fabric while the upper section is an open weave fabric. An exterior border of fringe, consisting of two layers of cut beige fabric, is found on both the top and bottom lengths and the fly end of the flag. Immediately within the fringe is a single band of alternating fabric patches with the following pattern: red square, purple triangle, red triangle, purple square, red triangle, purple triangle. The canton (upper left quadrant) is a Union Jack made with a patchwork of red, off-white, and blue fabric pieces. The field consists primarily of a light teal fabric background with appliqué design elements. The central image depicts an ungulate-type creature stamping on a snake that is eating a horse-like animal. The ungulate-type animal is a blue fabric appliqué. Yellow embroidery is used to accent the ears/horns(?); red delineates the lips and iris of the eye; beige depicts the toes and outline of the eye; and black is used for the pupil. The snake appliqué design is made with a yellow and black, scale pattern fabric. Beige embroidery is used to depict the mouth and exterior of the eye; gray and black define the iris and pupil respectively. The horse-like animal is red appliqué. Grey embroidery outlines the ears and describes the iris and inner mouth; pink delineates the outline of the eye; black the pupil and orange the exterior of the mouth. Below the Union Jack is a rodent-type creature made of purple appliqué. Red embroidery is used for the mouth; yellow for the toes and iris; and beige and black delineate the outline and pupil of the eye respectively. A rectangular, blue, appliqué element with "No 4 COMP" embroidered in off-white is depicted below this creature.
Brooklyn Museum