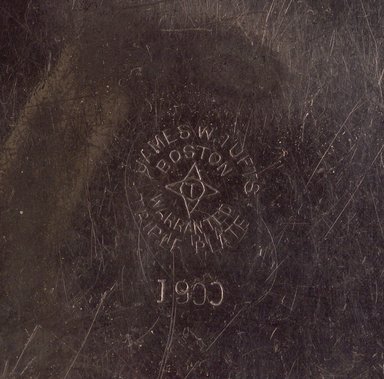 Teapot
Artist:James W. Tufts
Medium: Silver-plate on white metal
Geograhical Locations:
Boston, Massachusetts, United States
Dates:ca. 1880
Dimensions: 4 1/4 x 5 5/8 x 3 1/2 in. (10.8 x 14.3 x 8.9 cm)
Collections:
Exhibitions:
American Identities: A New Look
Accession Number: 1990.39.1
Image: 1990.39.1_mark.jpg,
Catalogue Description: Teapot (en suite with creamer and sugar bowl 1990.39.2-.3), silver-plate on white metal. Body is in the shape of truncated pyramid with square base with flat hinged lid; two S-curving faux bamboo handles spout with C-curve bamboo attached strut above and D-shaped angular faux bamboo handle. Finial is a cube, on point, resting on a short tapered base. Each face of the pyramid is densely engraved. At top of the pyramid is a double band with interlocking chevrons in lower part, interlocking semi-palmettes in upper. At base of pyramid is another band of alternating demi-lunes and chevrons on front and rear of body and alternating half-fans on two ends. On front face of body a diagonal reserve runs from lower left to upper right with the hoped handle of a basket looped over it. Basket depends into right section over vermiculae ground; foliage in lower right corner. In upper left is a bird perched on a branch with blossom, on vermiculae ground. On rear face of body, diagonal reserve runs from lower left to upper right. Above are bamboo shoots on vermiculae ground, standing in marsh with semi-fan shape at lower right. On face behind handle a diagonal reserve runs from lower left to upper right and a diagonal band with cross bandings intersects this at upper handle juncture and runs to lower right edge. Pointed oval lozenge overlaps at the intersection and is filled with stalk and blossoms. In area to upper right is a ground of overlapping semi-discs. To the left of the handle on vermiculae ground are two long-tailed birds, back to back, foliage in lower left corner. On face with spout, diagonal reserve runs from lower left to upper right. To the left is a branching vine on vermicular ground. To the right is a flying, long-beaked bird, on vermiculae ground, with foliage. On lid, a diagonal band runs from corner to corner under the finial and is filled with discs with stylized blossoms on articulated ground. The band runs over a central checkerboard square, which is bordered, by a detached band of scroll pattern. Condition: Plate worn in places, especially on handle, finial, hinge. Finial slightly depressed. Dent on front face to left of basket handle.
Brooklyn Museum