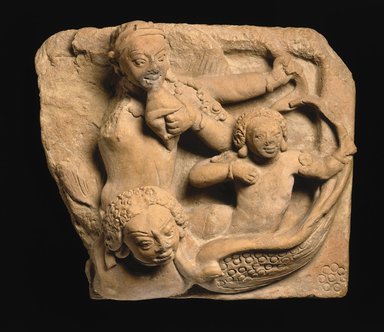 Vishnu on Garuda
Medium: Red terracotta
Geograhical Locations:
Northern region, Uttar Pradesh, India
Dates:5th century
Dimensions: 12 1/4 x 14 3/4 x 7 1/2 in. (31.1 x 37.5 x 19.1 cm)
Collections:
Exhibitions:
Vishnu: Hinduism's Blue-Skinned Savior
Accession Number: 73.124
Image: 73.124_SL1.jpg,
Catalogue Description: In a partially damaged relief tile, the Hindu god Vishnu descends from the heavens to do battle, riding the winged man-eagle Garuda. The god once had four arms; both of his right arms are now void. In his left hands he holds an archer's bow and he lifts a conch shell to his mouth, preparing to blow it like a horn. Below him is a smaller attendant holding a bow. The tile is void on the viewer's left. From Accession Card: Vishnu, the Hindu preserver of the universe, rides here upon his eagle mount, Garuda, shown in anthropomorphic form with widespread wings. Vishnu is four-armed and holds a bow in his upper left hand and a conch to his lips with his lower left; the two right hands are now missing. An attendant, who also has a bow in his outstretched arm, is at the diety's left. The Brooklyn panel is crafted in the regional style of Mathura, particularly in the modeling of the figures and in the Gupta-style curled hair, here articulated by stamped circles over the wig-like headdresses and by the circular punch marks over the wing and in the lower right corner. As in the other Gupta terracotta reliefs, the hands are summarily modelled, but the heads are fully rendered, with arched brows, pierced eyes, and structured cheekbones - all of which lend expression to the group. references: Poster 1973, no. 52; Pal 1978a, p. 81, no. 28; Banerjee 1985; Huntington 1985, p. 216, fig. 10.38. Condition: losses at left, so right arms of two left figures are void. Part of Vishnu's headdress is also lost. Chip from upper right corner.
Brooklyn Museum