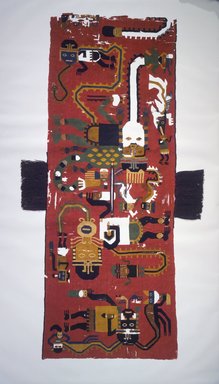 Poncho or Tunic
Artist:Nazca
Medium: Camelid fiber
Geograhical Locations:
Dates:100-200 C.E.
Dimensions: 74 7/16 x 27 9/16 in. (189.1 x 70 cm)
Collections:
Accession Number: 34.1579
Image: 34.1579_front.jpg,
Catalogue Description: Poncho with three large figures and ten smaller figures on a red background. The large figures, each one different, are shown wearing headdresses, masks, ponchos, a skirt and loincloths.They hold trophy heads, knives and arrows in their hands. The smaller figures are attached to the ends of serpent or ribbon-like extensions from the belts, headdresses, tails and mouths of the large figures. Mary Frame has noted that this textile was made into a poncho in antiquity from part of a larger cloth. It may originally have been a banner or hanging or half-mantle with a minimum of four figures. The band around the neck, the fringe, and side trim were embroidered onto the textile after the weaving and are worked in a purplish color not found in the weaving. One scholar has suggested that the neck opening was added at some time after the textile was originally woven. The neck aperture (24 cm) is small for a human head, unless the skull was radically elongated. Some "tunics" with small neck slits were slipped over the false head of a mummy bundle at Paracas Necropolis. Regarding the figure repetitions, a minimum of four figures [would have] repeated along the original length of cloth. The feet of the major figures face the same direction and the figures alternate in an up-down orientation. The largest figure on 34.1579 wears a feline-pelt headdress and is associated with two mythological animals devouring humans: a bird man on the end of its chin appendage and a shark with a human arm. Each figure portrayed is different and alternatively colored, some wear mouth masks and all have head ornaments. A minor figure on the left side of the tunic is a fishy creature devouring a human, a mythological theme that is recreated on other embroideries. Size: adult; probable wearer: male. Vertical camelid fiber warp and camelid fiber weft; camelid fiber embroidery. The ground cloth is a scarlet plain weave, warp and weft interlocked. Fourteen additional colors are used in the woven imagery. However, the black has deteriorated due to the use of an iron mordant. There are single interlock joins, and stem-stitch embroidery is used for the details of the eyes and some of the mouths. A dark purple fringe is attached at the shoulder area, possibly a later addition. A thread count carried out by Barbara Applebaum of the Brooklyn Museum Conservation Department notes that there are 12 warp and 15 weft yarns per cm.
Brooklyn Museum