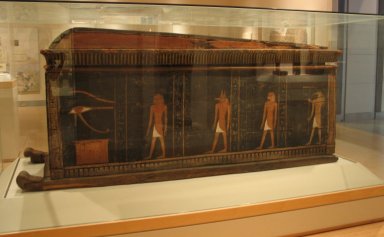 Outer Coffin of Kamwese
Medium: Wood, pigment
Geograhical Locations:
Thebes, Deir el Medineh, Egypt
Thebes (vicinity), Egypt
Dates:ca. 1539-1295 B.C.E.
Dimensions: 41 3/4 x 35 7/16 x 95 1/4 in. (106 x 90 x 242 cm)
Collections:
Egyptian, Classical, Ancient Near Eastern Art
Museum Location: Funerary Gallery 2, Martha A. and Robert S. Rubin Gallery, 3rd Floor
Exhibitions:
Egypt Reborn: Art for Eternity
Ancient Egyptian Art
Accession Number: 37.15E
Image: CUR.37.15E_view1_wwgA-2.jpg,West Wing gallery A-2 installation
Catalogue Description: Wooden sarcophagus inscribed for K3-m-w3s't also called K3my . The sarcophagus is the normal shrine-shaped affair with cavetto cornice and sloping curved lid. The base is in the form of a sledge. The head end is decorated with a painting of Nepthys, who is shown squatting with her hands raised in mourning. A similar figure of Isis decorates the foot end. The sides are each divided up into five panels by columns of texts; and in each of these panels is a representation of a symbol or deity. The panel at the head end of either side is decorated with a representation of the eye of Horus above a shrine. Following this, on the right side, are representations of Imsety, Anubis, Duamutef and Thoth. In the corresponding panels on the left side are Hapy, Anubis, Kebehsenuef and Thoth. The sons of Horus are all shown with human heads. Anubis is jackal-headed in both cases, while Thoth appears twice with the head of an Ibis. In both panels the latter deity holds a standard surmounted by the hieroglyph for "heaven" or "sky". The cavetto is decorated with vertical bands of color. Running around the bottom of the sarcophagus is a frieze consisting of simplified representations of niches. The front end of the lid is decorated by a group of symbols flanked on either side by a representation of Anubis, recumbent upon a shrine, in front of a large fan. Just behind this grouping is a vulture with widespread wings (Mut); and from her wings descend, along the length of the lid, three columns of text. The central column contains the usual text in which the goddess is invoked to spread herself over the deceased. The entire piece is painted chiefly in yellow and black, perhaps in imitation of gold and ebony. It was once thought that this sarcophagus was made to contain 37.14E; but there is no real connection between the two. Condition: One board missing from head and replaced by modern piece. Many small pieces broken from upper surface of cover and cornice. The cover is supported by a rough modern framework. All cross boards and runners of the base are now in separate pieces although apparently intact. The painted decoration is only partly preserved.
Brooklyn Museum