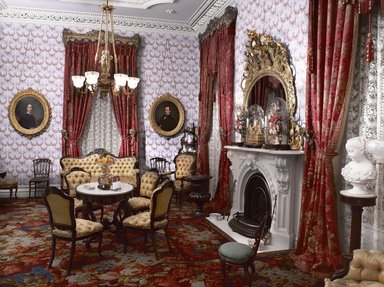 Colonel Robert J. Milligan House Parlor
Geograhical Locations:
Saratoga Springs, New York, United States
Dates:1854-1856
Collections:
Museum Location: Decorative Art, 19th Century, 4th Floor
Accession Number: 40.930
Image: DIG_E_2014_Milligan_Room_01_PS9_40.930.jpg,Installation view, 2014 reinstallation.
Catalogue Description: For the sum of $3,000 we received: Two Victorian drawing rooms including all woodwork, doors and door frames, windows and window frames, ceilings, mouldings, pilasters, chandeliers, mantelpieces, fireplaces, and all other materials in or part of said rooms, together with the complete furnishings. Library (originally the parlor): Late Empire style with Gothic pointed arch motif (this motif is also used in the decoration on the panels on the doors separating the parlor and library). This arch motif, called an "ogee" is a recessed area, painted medium-brown, into which a desk is placed. The woodwork around the ogee is painted white, as are the woodwork around the large window, floor mouldings, and ceiling mouldings. Floors-wide planks painted (stained?) raw sienna. Walls-plaster, painted medium yellow-green. Ceiling-moulded plaster with flat areas painted beige and recessed areas painted white and brown. Pilasters-Corinthian capitals, painted light grey, which frame double sliding doors between the two rooms. Drawing Room: Main room on the first floor. Except for the relocation of the windows, the room is presented as it was built and furnished in the middle of the 19th century. Floors-wide planks painted (stained) raw sienna. Walls-Grey plaster from floor moulding to ceiling moulding. There is simple wood paneling below each of three windows, painted white. Also, painted white are the floor moulding, pilasters and window frames. Ceiling-moulded plaster with flat areas painted medium grey along the out portion near the walls and painted beige within the center rectangle of the ceiling. The elaborate moulding and recessed ceiling decor are painted light grey. The moulding has leaf-like decoration and the ceiling has one rosette near each corner and leaf and flower designs. Pilasters-Corinthian capital, painted light grey, which frame double doors between the two rooms. The area about the doors is divided into three sections: lower, plain; middle, has a strip of fleur-de-le; top, stepped and chalice effect. Fireplace-white marble with scalloped shell and leaf scroll units at sides. Also, shutters (louver) on all windows. And, portraits of Col. Millian and his wife, Hannah (for whom the house was built) hang in the room, painted by John G. Taggart in Dec. 1851.
Brooklyn Museum