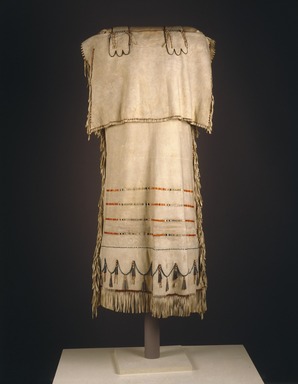 Strap Dress
Artist:Yanktonai, Nakota, SiouxCreeAnishinaabe
Medium: Buckskin, dyed porcupine quills, glass beads, tinned sheet-iron tinklers, thread (cotton or linen), sinew and pigment
Geograhical Locations:
Fort Snelling, Minnesota, United States
Red River Region, Canada
Red River Region, United States
Dates:early 19th century
Dimensions: 46 x 21 in. (116.8 x 53.3 cm)
Collections:
Exhibitions:
Tipi: Heritage of the Great Plains
Accession Number: 50.67.2
Image: 50.67.2_SL1.jpg,
Catalogue Description: Woman's dress composed of four sections of very white and pliable hide, probably employing at least two deer or caribou hides. Two large pieces of skin were sewn together to form the front and back of the dress and the upper edge of the skin is turned down as a long graceful flap to the waist. Two smaller pieces of skin are added to serve as shoulder straps. The entire dress, including the quillwork, is sewn together with thread. The seams that join the two major sections are fringed. Fringe near the shoulder is clipped very short so that it appears "pinked" and the fringe at the bottom of the dress is wrapped with orange and blue porcupine quills. The decoration of the shoulder straps is somewhat unusual as it differs from front to back. Scallops terminate the straps on the dress' front' while fringes decorate the shorter ends of the straps at the back. The straps are also decorated with a row of tiny black beads that edge the sides of these straps and surround the three scalloped lobes on each. Pairs of black beads in a double row decorate the section of the strap that intersects with the low neck line. Each scalloped portion of the straps is also ornamented, right and left, with bows made of hide strips wrapped at intervals with orange and light blue quills. Similar string-like ornaments are also attached at the proper right side of the front flap and the proper left side on the black flap. Quillwork strips across the body of the dress are in green, black, brown, white, reddish orange and light blue. Black seed beads and blue pony beads are applied as a scalloped border on an added piece of skin near the hem of the dress and tin cones are suspended in pairs from the apex of each of these beaded curves by thin hide strands wrapped at intervals with orange quills. See Jarvis report in Arts of Americas files.
Brooklyn Museum