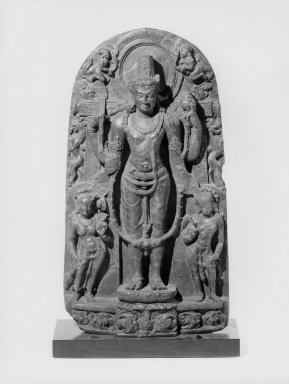 Standing Vishnu
Medium: Chlorite
Geograhical Locations:
Bengal, India
Bihar, India
Dates:ca. 10th century
Dimensions: 31 3/4 x 16 1/2 in. (80.6 x 41.9 cm)
Collections:
Accession Number: 68.185.25
Image: 68.185.25_bw_Design_scan.jpg,
Catalogue Description: 4-armed Vishnu standing on a lotus pedestal, holding his usual symbols: mace in upper right hand, conch in the upper left. The lower right, now broken off, was probably in abhaya mudra. The lower left arm is missing. The two lower hands probably rested on open lotus flowers. Vishnu wears a dhoti with a wide girdle belted over it and jewels suspended from it. He wears armbands carved in low relief on the upper part of two lower arms and bracelets on the wrists of the upper arms. He wears a necklace and a sacred thread. A garland hangs about the body and is seen in front of it below the knees. He wears a diadem under which his hair curls on his forehead. On top of his head is a headdress carved with lozenge designs and an open lotus flower at top. He had large curls hanging down on his shoulder and wears earrings. Two small female attendants stand on his right and left sides below his lower arms. The female on Vishnu's right holds in her left hand the stem of an open lotus and a fly whisk and in her left hand an unidentified object. Above these female figures are carved in the back slab a leaping lion on each side of Vishnu. On each side of the halo surrounding Vishnu's head is one flying knowledge spirit flying toward the other. Below the lotus pedestal on which Vishnu stands are the attendant figures. Condition: Lower right hand broken at elbow level, lower right arm broken under armband decoration. The instrument that Vishnu was holding in his upper right hand is broken off.
Brooklyn Museum